Vikings lose Bridgewater, beat Rams 21-18 in OT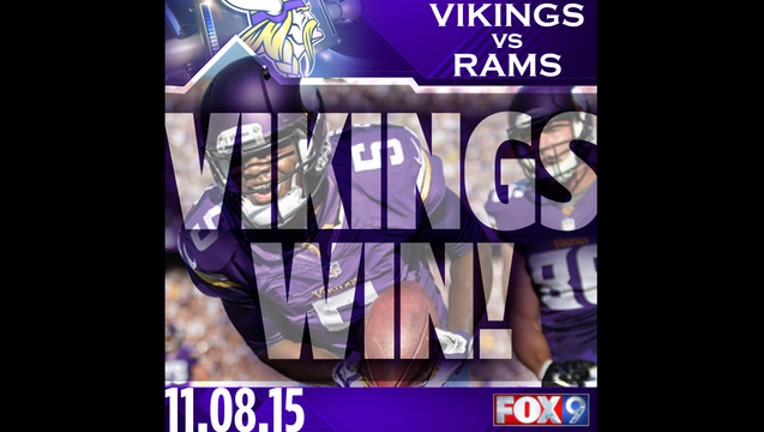 article
MINNEAPOLIS (AP) — Angered by a hit to Teddy Bridgewater's head that knocked the quarterback out of the game, the Minnesota Vikings kept their composure and steered their feelings toward another steely victory.
Then they let the St. Louis Rams have it.
Adrian Peterson rushed for 125 yards and a touchdown on 29 carries, helping set up Blair Walsh's 40-yard field goal in overtime that gave the Vikings a 21-18 victory over the Rams on Sunday.
"We're a disciplined football team. We do things right. That's why we are the least-penalized team in the league because we play by the rules," said Vikings coach Mike Zimmer, who had a hard time holding back.
In a predictably grind-it-out game between similarly constructed teams, the Vikings (6-2) ended Todd Gurley's streak with 125-plus yards rushing at four straight games. Gurley gained 89 yards and a touchdown on 24 attempts for the Rams (4-4), who took the overtime kickoff at Zimmer's deferral but quickly went three-and-out.
Marcus Sherels tiptoed along the sideline for a 26-yard return of Johnny Hekker's 63-yard punt, and Peterson ran the ball well into Walsh's range to give the Vikings their seventh straight win at home.
Greg Zuerlein made four field goals for the Rams, including a 53-yarder with 17 seconds left in regulation to make up for the 48-yarder that went wide right a few minutes before.
"It wasn't pretty, but it doesn't have to be," Vikings left guard Brandon Fusco said. "As long as we have more points than the opponent at the end, that's all we care about."
With Green Bay's loss at Carolina, the Vikings forged a tie for the NFC North lead, taking momentum into a tough second-half schedule. Bridgewater greeted his teammates as they ran through the stadium tunnel after the game, clapping and slapping their backs.
On a 5-yard scramble early in the fourth quarter, Bridgewater slid to protect himself when cornerback Lamarcus Joyner dived at him shoulder-first. Bridgewater appeared to be out cold, before walking slowly off the field and eventually jogging to the locker room for evaluation.
Asked if he felt the Rams played dirty, Zimmer said simply: "Yes."
"If we were out on the street," he said, "we probably would've had a fight."
Zimmer's postgame handshake with Rams coach Jeff Fisher was rather icy, but both Fisher and Joyner expressed regret about the play and wished Bridgewater well.
"It's a part of the game. I'm disappointed that he went out. I hope he returns to play as soon as he can," Fisher said.
Joyner is actually a lifelong friend of Bridgewater's.
"If I could take it back, personally, I would take it back because I'm not a dirty player. I wouldn't want to take joy from his mom or from his team," Joyner said. "Was it intentional? Not at all."
Zuerlein had a career-long 61-yarder among three field goals in the second quarter, the first from 60-plus yards in the NFL in nearly two years. Zuerlein became the second kicker in NFL history with multiple field goals from 60-plus yards, joining Oakland's Sebastian Janikowski.
Bridgewater, who was replaced by former Rams backup Shaun Hill, finished 13 for 21 for 144 yards with one interception. He ran for a touchdown in the third quarter to regain the lead for the Vikings, and then had a bootleg rollout for a 2-point conversion.
Late in the third quarter, Rams defensive end William Hayes drew the ire of the Vikings and the crowd with a low hit on Bridgewater, who grabbed his right knee. That was not penalized.
Rams defensive coordinator Gregg Williams was suspended by the NFL for an entire season for his oversight of a bounty system while in the same role with New Orleans. The Saints were found to have been paid bonuses for hard hits that hurt the other team, including Brett Favre and the Vikings in the NFC championship game after the 2009 season.
Nick Foles completed 18 of 33 passes for 168 yards for the Rams, who punted eight times and were penalized 12 times for 87 yards. They rallied from being down 10-0 less than 10 minutes into the game, but Fisher, wary of the wind, called for a 2-point conversion after Gurley's touchdown run. The relentless rookie was stuffed for no gain.
NOTES: Only six field goals longer than 61 yards have been made in NFL history. Matt Prater (64 yards in Denver on Dec. 8, 2013) has the record. ... In five games for the Vikings, Stefon Diggs has 11 catches covering 20-plus yards.
___
Online:
AP NFL website: http://www.pro32.ap.org and AP NFL Twitter feed: http://www.twitter.com/AP_NFL