Vikings home game bag policy, tailgating, transportation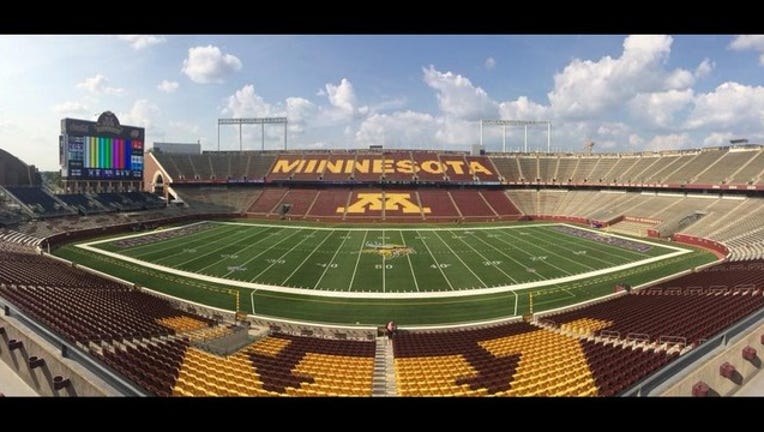 article
MINNEAPOLIS (KMSP) - The Minnesota Vikings want to make sure you have a seamless trip to TCF Bank Stadium for 2015 home games. Here's a few headache-saving tips:
NFL's Bag Policy
The NFL's bag policy limits the size and type of bags that may be brought into the stadium on game day. Prohibited items include: purses larger than a clutch bag, coolers, briefcases, backpacks, fanny packs, cinch bags, luggage of any kind, seat cushions, computer bags and camera bags or any bag larger than the permissible size. For additional information, go to NFL.com/allclear.
Vikings Fan Zone tailgating
Opening 2 1/2 hours prior to game time, the Vikings Fan Zone is located on Oak Street just west of TCF Bank Stadium. Fans can listen to music and participate in fan entertainment and interactive games in a family-friendly environment.
Getting to the game
Parking/Tailgating
Fans driving to the game can park at several locations on the U of M campus or take a free fan shuttle from St. Paul to TCF Bank Stadium. For information on parking, tailgating and shuttle options visit umn.edu.
The Vikings are also offering tailgating opportunities on surface lots just north of the old Metrodome/new stadium construction site. For $15, fans can enter on the corner of 4th Street and Chicago Avenue, tailgate in the neighborhood to which they are accustomed, hop on the Green Line at the Downtown East location and arrive in front of TCF Bank Stadium minutes later. Payment will be accepted at the time of entry.
Metro Transit
The METRO Green Line, which opened in 2014, connects Minneapolis and St. Paul through the heart of the University of Minnesota and includes a stop at the Stadium Village Station directly south of TCF Bank Stadium on 23rd Avenue SE. Fans can park in their typical Minneapolis downtown locations and hop on the Green Line from the Downtown East Station. Travel time between downtown Minneapolis and Stadium Village Station is approximately 10 minutes.

Fans who take the METRO Blue Line can park for free at Park & Rides at Fort Snelling and 28th Avenue stations and ride the train to downtown Minneapolis. To reach TCF Bank Stadium, Blue Line passengers can transfer to a Green Line train at the Downtown East Station.

Fans in the East Metro can take several local connecting local bus routes to a Green Line station.

Northstar trains will serve each pre-season and regular season Vikings home game this season. Fans who ride Northstar can transfer to a Green Line train at Target Field Station and be at TCF Bank Stadium in approximately 15 minutes. Northstar trains will depart Minneapolis 90 minutes after the game ends. Individual and discounted family passes good for two adults and up to three children or seniors can be purchased in advance online.

Several local bus routes also stop at or near TCF Bank Stadium.

Fans taking a Metro Transit bus or train to the game are encouraged to purchase a Day Pass or Event 6-Hour Pass, which eliminate the need to make multiple fare purchases. Passes can be purchased from ticket-vending machines at any rail platform.

Fans seeking trip planning assistance can speak to a transit expert by calling 612-373-3333 or by using the interactive Trip Planner at metrotransit.org. Extra staff will also be at key boarding locations around the stadium to assist customers.

For more information about service to TCF Bank Stadium visit metrotransit.org/vikingsTCF.

SouthWest Transit
SouthWest Transit will provide express bus service to and from each regular season home game. Fans can board at Park & Ride locations in Chaska, Chanhassen or Eden Prairie. Round-trip fares are $5. Return trips depart 30 minutes after the game ends. For more information visit swtransit.org.