Vikings' defense tasked with containing Russell Wilson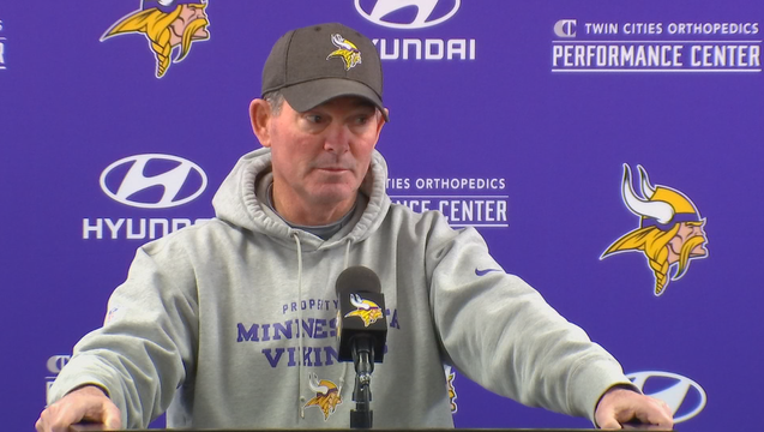 EAGAN (FOX 9) - There's a sense of urgency for the Minnesota Vikings as they get ready to face the Seattle Seahawks on Monday Night Football.
Players and coaches know what's at stake. Beat the Seahawks Monday night, and you get one step closer to a playoff spot. Lose, and the situation gets a lot more complicated. 
But a lot has to happen on the field before the season can go one way or another. The Vikings have their hands full with a Seahawks team that always seems to play well in the spotlight. Seattle leads the NFL with a 23-10 record on Monday Night Football. They're also 24-5-1 in primetime games since 2010, including 15-2 at home.
Monday night will be about containing Russell Wilson for the Vikings' defense. He needs 284 more yards passing this season to reach 3,000 for the season. He would join Peyton Manning as the only players to pass for 3,000 yards and more than 20 touchdowns in each of their first seven seasons. Wilson has 29 touchdowns this year with just five interceptions and 115.5 quarterback rating.
He's had a better season than a 7-5 record would show.
"It's loud, but it's really about who plays the best football and they play good football in December since Wilson has been there," Vikings coach Mike Zimmer said.
The Seahawks have all kinds of weapons on offense, but it starts with Wilson. The good news is the Vikings have faced plenty of playoff-caliber quarterbacks already this year. They faced Aaron Rodgers twice, and largely held him in check. It didn't go well against Jared Goff and the L.A. Rams, allowing more than 460 yards passing and five touchdowns.
The Vikings held Carson Wentz in check for three quarters at Philadelphia in a 23-21 victory. Drew Brees only passed for 120 yards against the Vikings, who struggled defending the run in that loss. Tom Brady passed for 311 yards against the Vikings, but the defense made adjustments and kept that game close enough for the taking.
"They're all playoff quarterbacks, great quarterbacks and we've got to play four quarters and keep the same mindset for 60 minutes. Russell Wilson will do anything to not get sacked," defensive end Everson Griffen said.
The Vikings defense will need to be aggressive, yet disciplined, in attacking the Seahawks offense. Wilson is at his most dangerous when on the run. The longer he keeps a play going, the better chance he'll find a receiver open down field.
The Vikings will also be tasked with containing Chris Carson, who has emerged as the Seahawks' top option in the run game. In 10 games, he's averaging about 70 yards rushing. He's tough to bring down, but will be playing through a dislocated finger suffered last week against the 49ers.
"Carson is a good back, he may be one of the best backs in the league the way he runs," Zimmer said. "I've seen him run over guys, I've seen him flip and land on his feet. He's got excellent feet and vision, really all of it."
The Seahawks are leading the NFL in rushing at more than 148 yards per game. They're also ninth in scoring with 26.6 points per game. They're the only team in the NFL with all three top running backs having at least one 100-yard rushing game. They've had seven straight games with at least 150 rushing yards, a franchise-high and the third-longest streak in the last 40 seasons.
"They're running the football a lot. Their offensive line is tough, physical guys who come off the ball. They get double teams and try to move you off the football. They've committed to the run game," Zimmer said.
The Seahawks are also disciplined with the football. Their +11 turnover differential is second in the NFL.
The Vikings should be ready for a hostile environment Monday night, and it'll be a playoff-like atmosphere. Seattle has sold out CenturyLink Field 136 straight games. They lead the NFL with causing 172 false start penalties since 2005.
While their 23-10 record on Monday Night Football sounds daunting, they've lost two straight, including falling to the Bears back in September.
The Vikings know the task at hand. If they can contain Wilson, they have a great chance to come out of Seattle with a victory.
"Wilson is moving around a lot and then guys take off. They run the ball well and he moves the pocket. He just has confidence in his ability to throw it," Zimmer said.