Tyler Johnson embracing 'last ride' with Gophers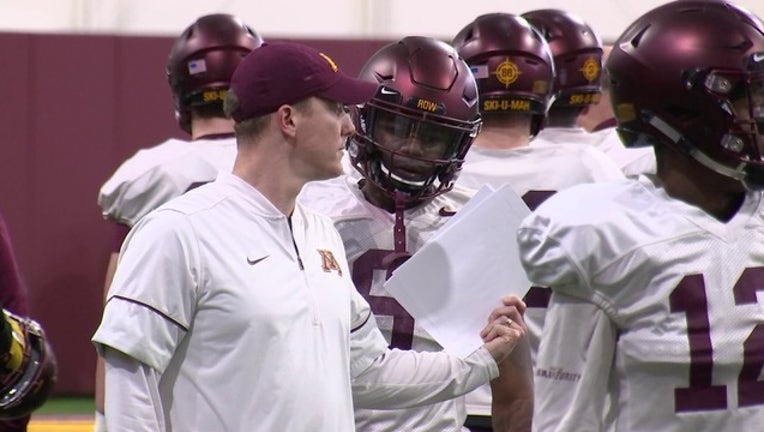 MINNEAPOLIS (FOX 9) - Tyler Johnson had a decision to make after a standout junior season with the University of Minnesota football team.
He tied a school record with six 100-plus yard receiving games and became the first Gophers player ever to do it four straight games. He set single-season records in yardage (1,169) and touchdowns (12), and his 74 catches last year were the second-most in school history.
The first-team All-Big Ten wide receiver could've left school to get ready for this year's NFL Draft, which is three weeks away. His other option was to return for his senior season, maybe help the Gophers contend for a Big Ten title. He made his decision official on Jan. 14 with a post on Twitter and Instagram, "Last ride."
He was returning to Minnesota for one more season. He wanted to finish school, and spend one more year with his teammates.
"It took a while because that's a pretty hard decision to make. Overall I talked to my family and I'm close to school getting done. I'd be the first in my family to get my college diploma," Johnson said. "As me being the oldest, that took a lot of consideration."
Johnson returns as the Gophers top threat at wide receiver, and he'll make plays regardless of who the quarterback is. He's made just about every catch there is to make in spring practice, including a leaping back shoulder throw from Zack Annexstad on Tuesday in a situation that would've been a game-winning touchdown.
He made catches in traffic, while we was being grabbed and held and his route running is as crisp as it's ever been. He already looks the part of an NFL wide receiver.
"First of all he comes to work every single day wanting to get better. The margin for improvement for Ty now is this tiny little millimeter every day. He continues to get that much better every day, which is way harder. Tyler is a not a guy who thinks it's good enough," Gophers coach PJ Fleck said.
Gophers hold final open practice before Spring Game
The Gophers held their third full practice open to the public on Tuesday. It was their final open workout before the April 13 Spring Game at TCF Bank Stadium.
Tuesday probably felt more like a game for most of the players. Fleck spent much of the time going through team situations in 7-on-7 and some 11-on-11 drills. In 7-on-7 drills, Annexstad threw touchdown passes to Jake Paulson, Johnson and Bryce Williams. He also hit Rashod Bateman in stride during individual drills for a long touchdown.
In defensive highlights, Thomas Barber got an interception in 7-on-7 drills, similar to his interception at Wisconsin. Kamal Martin also got a sack of Annexstad in a late-game situation.
For Barber, the Spring Game will feel much like practice has. That's a good thing, and he's looking forward to it.
"We have a Spring Game almost every practice it feels like. That's what we've got to have at practice, that it feels like a game. Like you're going out there playing a game," Barber said.
Barber will be asked to take on a bigger role in his senior season. He finished third on the defense last year with 81 tackles, including four tackles for loss and 1.5 sacks.
Fleck wants his players to embrace the Spring Game and have fun with it. It's their last opportunity to be together with a full coaching staff until fall camp starts in August. He also considers it the 13th game on their 2019 schedule, as it's their first.
"It's an ability to really go out there and kind of let it loose in front of our fans and our crowd. We're going to win. I want them to be able to go out there and let it go, have the feeling of that first home game," Fleck said.
Other notes
Wildcat quarterback and tight end Seth Green was at practice with a walking boot on his right leg. Fleck said earlier this spring session that he doesn't consider the injury serious.

Defensive end Winston Delattiboudere was at practice on crutches with a brace on his left knee. He went down injured at the March 26 open practice.

Jason Williamson and Erik Gibson both suffered injuries at Tuesday's practice. Williamson did not return, and their status is not known.

Micah Drew-Treadway walked off slowly after getting triple-teamed during a drill and didn't return.
The April 13 Spring Game is set for 11 a.m. at TCF Bank Stadium and is free to the public.