Twins slugging to division lead, 25 games in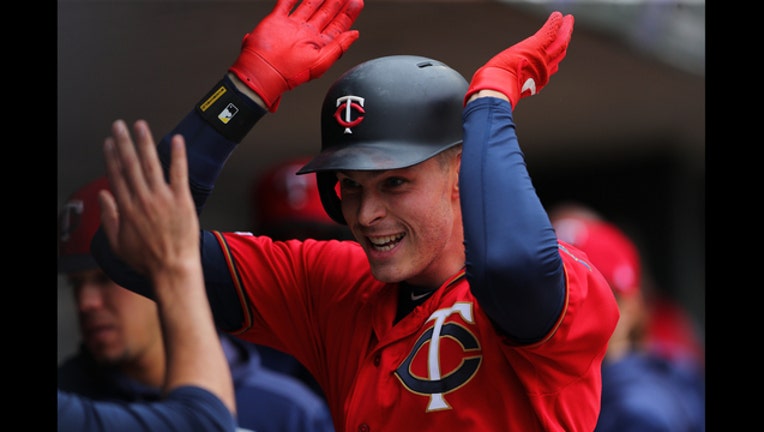 article
MINNEAPOLIS (FOX 9) - The Minnesota Twins currently feature one of the most powerful lineups in baseball.
You read that correctly. Before hosting Houston Monday night, the Twins were 25 games into the season. They're currently fifth in the Major League Baseball with 49 home runs, which is good for second in the American League behind only the Seattle Mariners.
They like the long ball. The piranhas of 2006 to 2008 are long gone. After years of getting on base, seeking productive outs and the occasional clutch hit, the 2019 Twins are different. The want to hit the baseball hard.
And so far, they're one of the best teams in baseball at doing that. They also have yet to put one of their top sluggers, Miguel Sano, in the lineup.
The Twins just finished a three-game sweep of Baltimore, in which they hit 12 homers in the series. Friday night, Nelson Cruz, Eddie Rosario and C.J. Cron went back-to-back-to-back with home runs. The Twins are swinging hot bats, and it's up and down the lineup.
Twins manager Rocco Baldelli credits it to individual players making the most of their plate appearance.
"I've been impressed with the way our guys have handled their business and gone up there and had the at bats. The home runs are good, but the at-bats have carried us," Baldelli said.
Byron Buxton is off to a fast start offensively with 20 hits in 74 at-bats. That includes being tied for the MLB lead with 12 doubles. He got the zero off the home run column Sunday with a solo blast to left center.
He said the teams is staying within itself, and the confidence grows with every trip to the plate. That hasn't always been the case with Buxton, who has struggled in the past with injuries, changes in mechanics and confidence.
"We've got the team to do it. There's a lot of people that didn't expect us to do what we're doing now, so we've just got to keep doing what we're doing," Buxton said.
They certainly do have the team to do it. Rosario hit 24 homers last year, and already has 11 this season. That's third in league overall. The Twins added Nelson Cruz and C.J. Cron in the off-season. They're two of six Twins players who have at least five home runs through 25 games.
Cron, Cruz, Jorge Polanco and Mitch Garver all have gone yard five times. Max Kepler hit four homers in the weekend sweep of the Orioles and has seven. Rosario's 11 leads the team.
It's not just baseballs leaving the field, it's also hitting for extra bases. The Twins lead the league with a .513 slugging percentage and a .846 on base plus slugging percentage.
"I looked at our lineup before Spring Training and I was like 'Wow, this is a scary lineup.' If everyone stays healthy, mentally in the right place then it's going to be scary," outfielder and leadoff hitter Max Kepler said.
It's said that hitting can be contagious. Twins players say it amounts to having a quality approach every time up to the plate.
That, and if you get a pitch you like, attack it.
'You can't expect to swing the bats like we have to this point, there's no way you can see that coming," Baldelli said. "When our guys are having at bats like they're having them, you try to just ride it out as long as you can and keep it going."
The Twins are doing it all without one of their top sluggers. Sano is set to begin a rehab assignment Tuesday after having a second procedure to fix a laceration on his heel suffered during his winter ball team's championship celebration.
There's an easy way to make friends with your pitchers: Give them an early lead, and add to it whenever possible. Kyle Gibson had a 4-0 lead after three innings on Sunday after homers from Kepler and Buxton. It gave him confidence to attack the strike zone himself, and allow just one run over seven innings. He's 2-0 on the season.
"Our offense has been making it a whole lot easier on the pitching staff, that's for sure. When your offense is going to swing the bat like that, we're going to have a lot of confidence," Gibson said.
Twins' hitters are comfortable at the plate, but that could all change Monday night as Justin Verlander takes the Target Field mound for Houston. It's the way the game is, hot and cold streaks happen. The Twins are going to enjoy their hot hitting for now. They have a two game lead over Cleveland in the division, and it's a fun clubhouse right now.
"We've got a great group, great team chemistry and with that team chemistry comes great playing," Buxton said.