Twins detail plans for 'Joe Mauer Weekend' as team retires his No. 7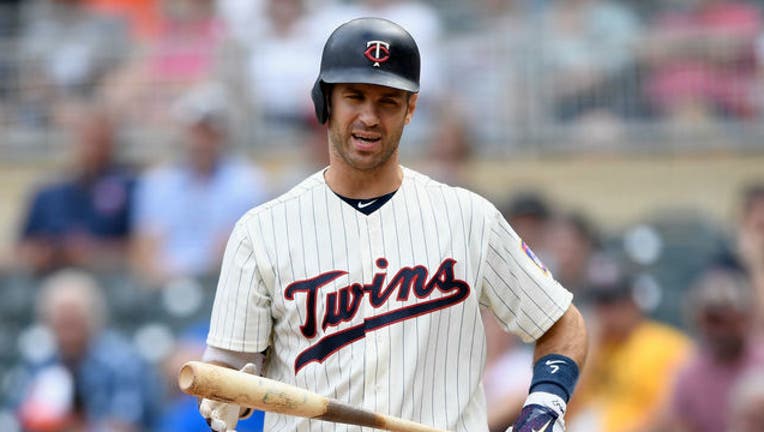 article
MINNEAPOLIS (FOX 9) - The Minnesota Twins will honor Joe Mauer with a weekend-long celebration in June as the team retires his jersey number.
Mauer, a St. Paul native, was drafted by the Twins in 2001 and spent his entire 15-year career in the Twin Cities before retiring last season.
Mauer's number seven will be retired on Saturday, June 15, but the team will first host "Prince Night" on Friday, June 14. The first 10,000 fans at the stadium that night will get a purple Prince/Twins jersey. Other fans who bought "Prince Theme Night" ticket packs will get a Twins/Prince-themed hat.
The next night, the team will give away free No. 7 baseball caps to the 40,000 fans before the jersey retirement ceremony. Finally, the team will wrap up the weekend with Kids Day on Sunday.
A group of former Twins players, managers, and executives are also set to take part in the weekend's festivities.
Full schedule
Friday, June 14: Twins vs. Kansas City Royals (game starts at 7:10 p.m.)
Prince Night: 10,000 fans will get a purple Prince Twins Jersey. Those who purchase a special ticket package will get a co-branded Prince/Twins hat. More info here.
Former players Jim Thome, Joe Nathan, J.J. Hardy and Nick Punto will offer free photos for fans from 5:20 p.m. to 6 p.m. next to the Supercuts Super Seats.
Pregame ceremonies will recognize the community work performed by Joe and Maddie Mauer.
The night will be capped off with some postgame fireworks.
Saturday, June 15: Twins vs. Kansas City Royals (game starts at 6:10 p.m.)
The first 40,000 fans at the game will get a commemorative No. 7 Baseball Cap.
Michael Cuddyer, Eddie Guardado, Torii Hunter and Brad Radke will take photos will fans from 4:20 p.m. to 5 p.m.
The Twins will retire Joe Mauer's number seven during a pregame ceremony. Family, friends, and past coaches and teammates will join Mauer for the ceremony. Twins players will also add #7 patches to their hats and jerseys for the game.
Sunday, June 16: Twins vs. Royals (game starts at 1:10 p.m.)
Kids Day: Kids, ages 12 and under, will get the chance to get an autograph from a Twins player before the game. After the game, kids will get to run the bases.
First Run Kid: Joe Mauer will greet that day's "First Run Kid" at home plate before the game.
Kids' meals will be half price ($4)
For more information, you can click here.