Twins: Byron Buxton returning to center field soon?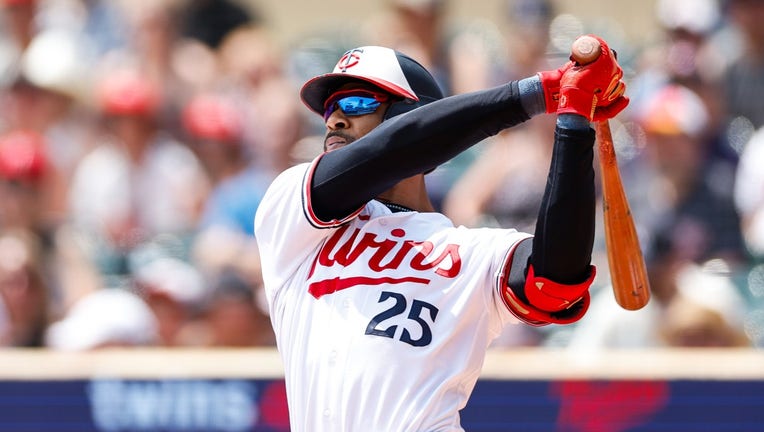 article
MINNEAPOLIS (FOX 9) - Byron Buxton has played 85 games for the Minnesota Twins this season as a designated hitter, but that trend may soon be coming to an end.
Buxton was placed on the injured list earlier this month with a right hamstring strain. He also spent time on the injured list in June with a left rib contusion after getting hit by a pitch against the Baltimore Orioles. Buxton is starting a rehab assignment with the St. Paul Saints Wednesday night, and for the first time all season, he's expected to be in center field.
At DH, Buxton is hitting just .207 with 17 home runs, 17 doubles, one triple and 42 RBI in 304 at bats. Michael A. Taylor has taken over for Buxton in center field and in 118 games, is hitting .228. He hit his 20th homer of the season Tuesday night, and has 13 doubles, 45 RBI and 13 stolen bases. Most importantly, he's provided stability in the outfield with Buxton unable to play defensively.
Rocco Baldelli said earlier this summer if Buxton was physically capable of playing center field, he would be out there. That led to speculation that his ailing knee injury was causing problems, or they were hesitant to put him in the outfield to keep him healthy.
Buxton did a workout with the Twins at Target Field earlier this week that included throwing, running the bases, live hitting and work in the outfield. By all accounts, it went well. Buxton is currently under a 7-year, $100 million deal with the Twins and is under contract through the 2028 season.
The Twins are 69-64 and have a six-game lead over the Cleveland Guardians in the American League Central Division, with 29 regular season games left. Buxton playing center field for the Saints is a sign that his return to the outfield for the Twins is imminent, provided he can stay healthy.