Timberwolves win one for Flip to open season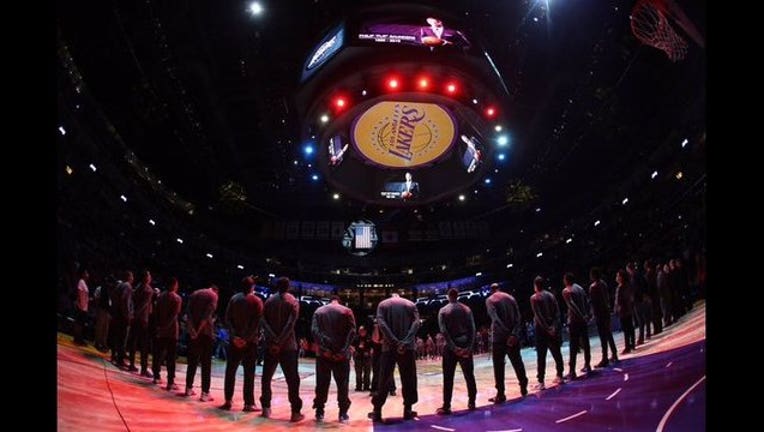 article
LOS ANGELES (AP) -- With heavy hearts and occupied minds, the Minnesota Timberwolves hung on to win one for Flip.
Ricky Rubio had a career-high 28 points and 14 assists and the Timberwolves rallied from a 16-point deficit in the second half to beat the Los Angeles Lakers 112-111 Wednesday night in their first game since Flip Saunders' death.
When Lou Williams somehow missed a 4-foot runner at the buzzer, Minnesota hugged and celebrated a fortunate break in a cathartic victory. Kevin Martin scored 23 points for the Timberwolves three days after they lost Saunders, the longtime coach and team president who battled Hodgkin's lymphoma.
"I think we had a little help today," Rubio said. "It's been a tough week. It's hard to explain. Everybody went through a lot of pain. But even though Flip's gone, he will stay with us forever."
Saunders' recent death and a pregame moment of silence put both teams in a somber mood in their season opener. Both wore warmup shirts honoring the coach. The Timberwolves' shirts bore the slogan "WE," while the Lakers' said "FLIP."
Minnesota led 111-102 with 2:11 left, but the Lakers finished on a 9-1 run. Williams hit a 3-pointer with 31 seconds left to trim Minnesota's lead to one point. Martin missed a jumper before Williams missed his leaner
"We stayed together as a team, something that we've been doing a lot this week," said Karl-Anthony Towns, who had 14 points and 12 rebounds in his NBA debut. "(We're) working together as a family and doing a great job of keeping his vision alive. We just seemed to have Coach Saunders on our side, especially with Lou Williams shooting a floater for the game. Nine times out of 10, he hits that. But I think we had a sixth man on the floor."
Kevin Garnett had 4 points and 7 rebounds to begin his 21st NBA season, becoming just the third player in league history to last that long. Garnett, who was persuaded to return to Minnesota by Saunders last season, left the locker room without speaking to reporters.