Timberwolves' Rudy Gobert, Jaden McDaniels fined for altercation at Golden State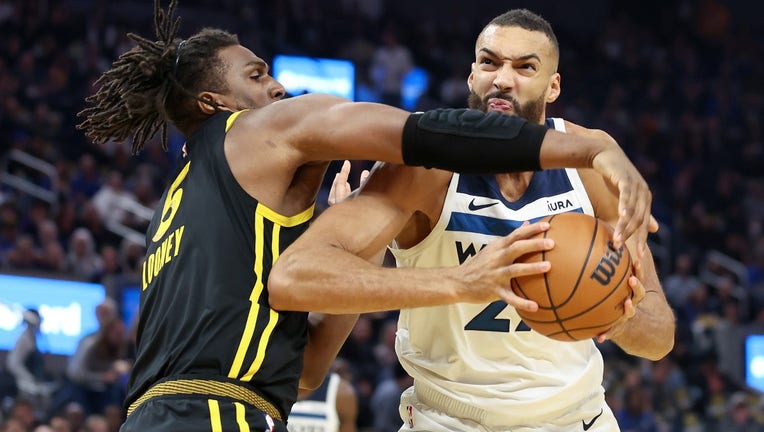 article
MINNEAPOLIS (FOX 9) - Minnesota Timberwolves center Rudy Gobert and forward Jaden McDaniels are being fined by the NBA, while Golden State Warriors forward Draymond Green has been suspended for the altercation between the two teams Tuesday night.
Less than two minutes into the Wolves' 104-101 win over the Warriors, before a basket had even been scored, McDaniels and Klay Thompson got tangled up and in an altercation where they grabbed each other by the jersey. Gobert tried to be a peacemaker, but Green quickly stepped in from behind and grabbed him by the neck.
Green, McDaniels and Thompson were all ejected from the game. The NBA announced Wednesday Green has been suspended five games. McDaniels, Gobert and Thompson were all fined $25,000.
After the win, Gobert called Green's actions "clown behavior" and said he was trying to get ejected when he learned teammate Steph Curry wouldn't play due to knee soreness.
"It's kind of funny because before the game, I was telling myself that Steph is not playing, so I know Draymond is going to try and get ejected. Because every time Steph doesn't play, he doesn't want to play, it's his guy Steph. He'll do anything he can to get ejected... Clown behavior, and I'm proud of myself for being the bigger man again and again," Gobert said. "And yeah, doesn't even deserve me putting my hands on him. My team needed me tonight. I did whatever I could to keep my cool and then show that I wasn't making the situation worse, and I do hope that the league is going to do what needs to be done because that's just clown behavior. Not much to say. It's clown behavior."
The Timberwolves are 8-2 and have won seven straight heading into Wednesday night's game at the Phoenix Suns.