TCF Bank Stadium deal amended: 4 things to know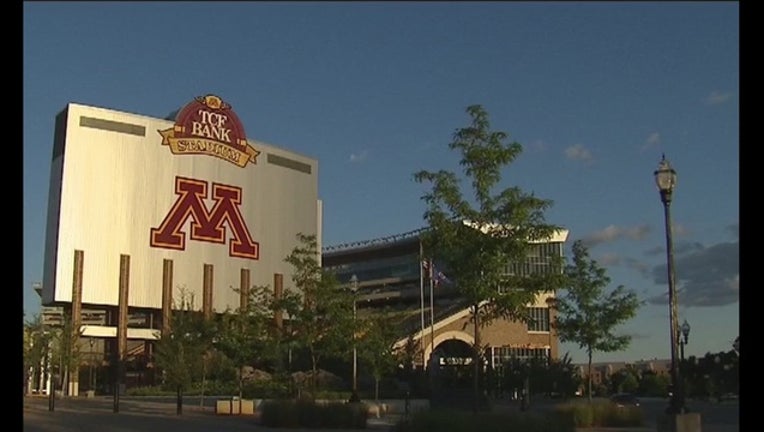 MINNEAPOLIS (KMSP) - The University of Minnesota and TCF Financial Corporation have announced an amended agreement for the TCF Bank Stadium naming rights, which includes field markings, and updated logo and an investment in the Athletes Village.
NAMING RIGHTS THROUGH 2040: In 2005, TCF entered into a 26-year, $35 million agreement with the U of M to support the construction and secure the naming rights of TCF Bank Stadium. Under terms of the amended agreement, pending approval from the University's Board of Regents on Friday, TCF also has secured an option to extend its sponsorship and naming rights for another 10 years through the 2040 season. Exercising this option includes a $4 million initial contribution to the university.
ATHLETES VILLAGE INVESTMENT: Under terms of the amended sponsorship agreement, TCF will immediately invest $8 million in the Athletes Village, which is scheduled to open in January 2018. The 320,000 square foot village will include an indoor football practice facility, updated practice and training facilities for basketball and renovations to several other buildings.
FIELD MARKS: New field markings with the TCF Bank Stadium name will be added before the Gophers' Sept. 16 home football game against Middle Tennessee State. The logo will be placed on the playing field, and the TCF logo will be placed just outside the field of play.
NEW LOGO: A new TCF Bank Stadium logo will be unveiled prior to the 2018 football season, and will be designed to appear on the stadium's scoreboards and other prominent locations.
Did you know The P.J. Fleck Show is on Fox 9? Watch LIVE episodes of the P.J. Fleck Show every Wednesday at 6:30 p.m. on Fox 9, with an encore broadcast at 7:30 p.m. on Fox 9+. Miss this week's episode? WATCH IT: THE P.J. FLECK SHOW: IMPROVING BEFORE OREGON STATE