Stalock stays home, signing extension with Wild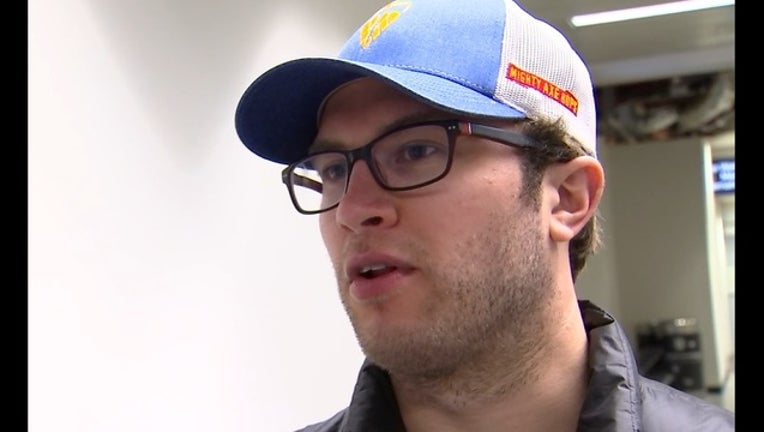 MINNEAPOLIS (FOX 9) - If Alex Stalock is going to win a Stanley Cup, he wants to do it as a member of the Minnesota Wild.
The St. Paul native made that much clear on Tuesday, signing a three-year contract extension to stay with the Wild through the 2021-22 season. Stalock's deal is worth about $2.335 million. He'll earn $905,000 in 2019-20, $700,000 in 2020-21 and $750,000 in the final year of the contract.
He's relieved the contract talks are over, and he can focus backing up Devan Dubnyk in net.
"It was fun, obviously it was a process every time you're going through something like this. It took it's time but at the same time, I think both sides are happy with what came out of it and I think it's fair for both sides and we're excited about it," Stalock said.
Stalock, 32, is in his third season with the Wild after spending his first five years with the San Jose Sharks, where he was drafted in 2005. In 14 games and 10 starts this season, he's 6-5 with a 2.92 goals against average and a .894 save percentage.
He had his best game of the season two weeks ago against the L.A. Kings, making 33 saves on 35 shots as the Wild beat the Kings, 3-2 in a shootout.
Stalock is loyal to Minnesota and loves playing at Xcel Energy Center. In 44 games with the Wild, including 35 starts, he's 17-16-4 with a 2.80 goals against average and a .907 save percentage. He's also 10-3-2 on home ice with 2.12 goals against average and .923 save percentage in 15 games, including 13 starts.
"Being home is great, playing for your hometown team that you grew up watching, going to Xcel Energy Center and watching the likes of Brian Rolston, Darby Hendrickson, Marian Gaborik. You get to put that jersey on and it goes a long way for the folks here in Minnesota that are huge fans," Stalock said.
He understands that the NHL is no different than any other pro sports enterprise. It's a business, and it's not always a guarantee you'll play in your backyard. That's especially true with the Wild under new leadership in General Manager Paul Fenton.
There are no guarantees, which is why he's even more grateful to be spending at least three more seasons with the Wild. He also understands he's not the No. 1 guy in Minnesota, and that's not changing any time soon.
Starting goalie Devan Dubnyk was the Wild's lone representative for the NHL All-Star Game. In 41 games this season, he's 20-16-3 with a 2.57 goals against average and a .913 save percentage. Stalock could've looked elsewhere for a starting opportunity, but he took the best opportunity that presented itself.
"I'm older now and I've been around a little bit and I see how the league works. You see what's out there and for me I want to win just as bad as anybody else," Stalock said. "Right here in Minnesota there's no better chance."
Make no mistake about it. Stalock is staying in Minnesota to help the Wild bring a Stanley Cup back to St. Paul. He wants it for Zach Parise and the five other locals on the Wild roster, himself included. Most of all, he wants it for the dedicated fans that fill Xcel Energy Center on a nightly basis.
"They want the ultimate prize, and that's to get the Stanley Cup here," Stalock said. "That's the goal, and it's three more years of hopefully having a chance to get that done."