SIGNING DAY: PJ Fleck's Gophers have a gong and balloon drop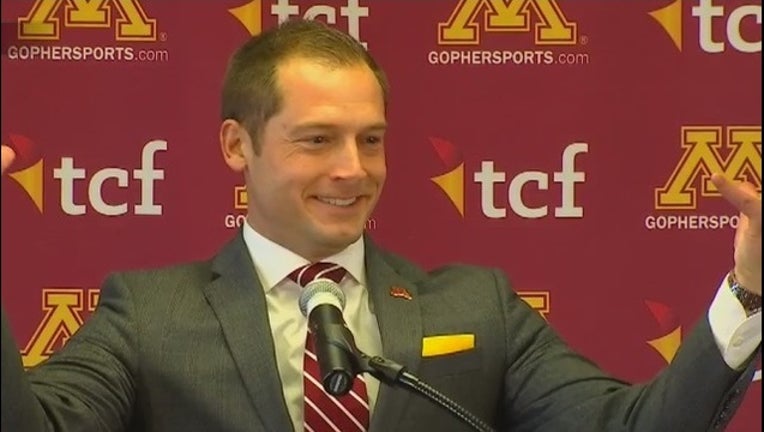 article
MINNEAPOLIS (KMSP) - National Signing Day is Feb. 1 and first-year Gophers head coach P.J. Fleck has made it a full-blown celebration at the University of Minnesota. The Gophers football meeting room featured a red flashing light, a gong and a balloon drop to celebrate the 2017 recruiting class.
Big Ten Network had inside access to the coaches' room on Signing Day, following each strike of the gong, the balloon drop and a sparkling cider toast from Coach Fleck.
'Those who stay will be champions'
"This was really hard to do," Fleck told his staff. "I think as you become a head coach in your careers, when you look back on it, you'll see exactly how hard what you just did was. Not only from just getting hired, leaving your families, leaving your kids, and then going right into recruiting with really no sense of direction other than the direction of the program and the Row the Boat culture and the HYPRRculture of where the University of Minnesota is heading."
"As Bo Schembechler said, those who stay will be champions," Fleck said, referencing the legendary Michigan coach. "We said the same thing to our staff on Signing Day, to our players. Those who stay will be champions. It won't be easy, it's going to be a long journey, but it's going to be a fun journey because of the elite group of men and women we have in this room."
Fleck kids are all-in
The Fleck children were the first to commit to the Gophers on Signing Day, signing their own letters of intent at the breakfast table.