Salvation Army sees spike in donations after Zeke's Red Kettle jump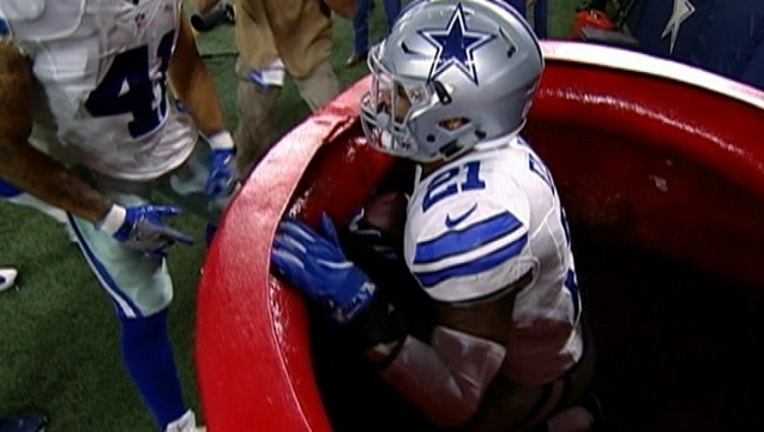 article
DALLAS - Ezekiel Elliott's Salvation Army kettle jump has led to a spike in donations and no NFL fine.
Elliott jumped into a large Salvation Army Red Kettle outside the end zone during Sunday night's game against the Tampa Bay Buccaneers. He said he was just embracing a holiday tradition.
"You know that bucket was just sitting right there by the end zone so it was only right that somebody jumped in it," he said.
Elliott was flagged for the celebration and was expecting a fine since the NFL has rules against using props in celebrations. He promised to match whatever fine he received with a donation to the Salvation Army.
A spokesman for the league announced Monday there will be no fine. Elliott said he is still planning to give to the Salvation Army, though.
The charity says it brought in $182,000 in donations in 14 hours, and that number is only going up.
Not only did Zeke get the Salvation Army trending on Twitter, donations to the Salvation Army online went up more than 60%, compared to last week.
In DFW, Jonathan Rich with the Salvation Army took more calls from people wanting to volunteer and donate in response to Zeke's move and says those donating cash have been more enthusiastic. Many fans have donated $21 in honor of Zeke's number, 21.
Those who work for the Salvation Army are not shocked by Elliott's show of support. They're inspired.
"It's not a surprise that he would do that," said Rich. "He's volunteered at Angel Tree. He's helped feed the homeless at one of our shelters. He really knows a lot about the Salvation Army."
The kettle campaign continues through Christmas Eve.