Nelson Cruz ready to be big bat for Twins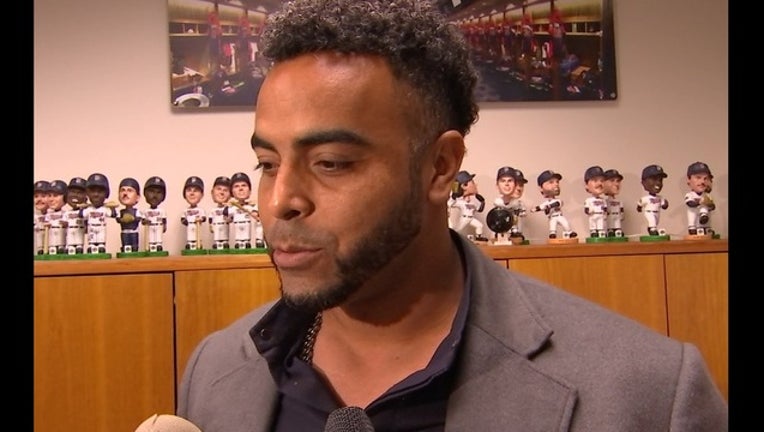 MINNEAPOLIS (FOX 9) - Nelson Cruz had his eye on the Minnesota Twins long before agreeing to a contract in late December.
The free agent slugger was in Minneapolis for TwinsFest last month and is excited about the possibilities at Target Field. As he should be: Cruz has hit 10 home runs here as a visiting designated hitter, has the longest projected home run ever hit at Target Field.
He hit a no-doubter to left field on Sept. 25, 2016, off Tyler Duffey that traveled a projected 493 feet.
"Even before I was a free agent when we come and played here I thought it was a good fit for me, so the choice was not easy but it was already on my mind," Cruz said at TwinsFest.
Cruz is entering his 15th major league season and has been a full-time starter since 2009. He spent the last four seasons in Seattle as the designated hitter, was in Baltimore in 2014 and became a star during his seven seasons with the Texas Rangers.
He arrived to Fort Myers, Fla. for Spring Training, and the Twins held the first full-squad workout on Monday. He wasted no time in early batting practice hitting balls over the fence.
Cruz hit 37 home runs in 144 games last year for the Mariners. He hit at least 40 home runs in 2014, 2015 and 2016 before hitting 39 in 2017. As a team last season, the Twins finished 23rd with 166 homers in 162 games. Eddie Rosario led Minnesota last year with 24 home runs, followed by Max Kepler at 20.
The Twins were hoping Logan Morrison would be the big bat last season, but he hit just .186 with 15 homers in 95 games. Miguel Sano had a season plagued by injuries and hit just .199 with 13 homers in 71 games.
With Cruz in the fold, it's not all on one player's shoulders to hit the ball out of the park.
"I'm going to play every day, that's my main thing. I want to be there to help my team in games and hopefully we can go to the playoffs," Cruz said.
He hits for power, and he's durable. Cruz has played in at least 144 games in each of the last five seasons. The 144 is his lowest since playing in 109 games with the Rangers in 2013.
With a one-year contract projected at $14 million and being a veteran, a lot of eyes will be on him to be a leader for the Twins.
"I have to lead by example. I show up every day to play hard, make sure I'm ready for every single game," Cruz said.
Cruz will provide instant power credibility to a lineup that needs it, and he'll provide protection for other sluggers including Sano, Rosario and Kepler. He'll also get some help from Jonathan Schoop, a second baseman who signed with the Twins in free agency after spending five seasons in Baltimore. He finished last year with Milwaukee Brewers and hit 21 homers in 131 total games.
Schoop will fill the void at second base for the Twins after Brian Dozier was traded to the Dodgers last season and signed with the Washington Nationals in free agency.
Cruz and Schoop were teammates with the Orioles in 2014.
"I'm really excited, I've known him since he was coming up. I know what he can do. He's grown up a lot since we played together," Cruz said.
The Twins haven't had a 30-home run hitter since Dozier hit 42 in 2016 and 34 in 2017. They nearly had two that year as Sano hit 28.
Cruz is hoping to be the big bat in the middle of the lineup that helps get the Twins back to the postseason after winning just 78 games last year.