Kaprizov, Eriksson Ek lead Wild to 6-2 Game 2 win over Blues, series tied 1-1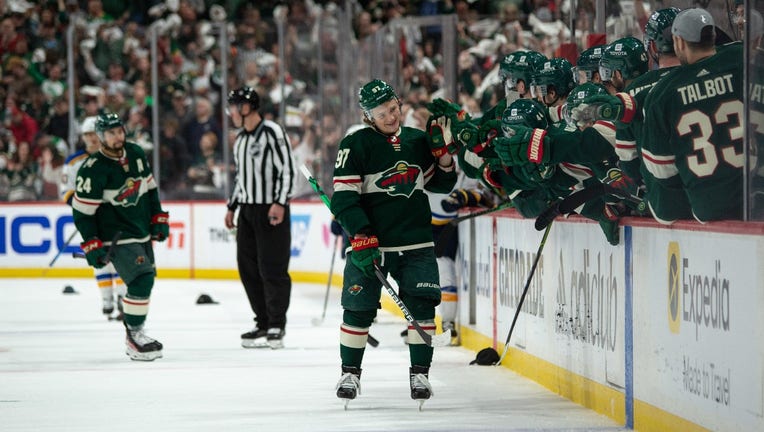 MINNEAPOLIS - How about that for a bounce back Game 2 for the Minnesota Wild?
After losing Game 1 of the Stanley Cup Playoffs 4-0 to the St. Louis Blues Monday night, the Wild responded with a 6-2 victory Wednesday night in front of more than 19,000 fans at Xcel Energy Center to even the series 1-1 as they head to St. Louis Friday night. The Wild ended a six-game losing streak against the Blues, and made some history in the process.
Kirill Kaprizov recorded the first playoff hat trick in Wild franchise history, Joel Eriksson Ek had two goals and an assist and Marc-Andre Fleury had 32 saves. They looked a lot like the team that earned 113 regular season points, and not the one that last 4-0 Monday night.
"It's a really fun feeling to get a win at home and have our fans cheering from start to finish. That was a good time, hopefully we have many more of those," Fleury said.
Eriksson Ek scored the Wild's first goal of the series, nearly 70 minutes of game time in. He gave the Wild a 1-0 lead at 9:33 of the first period, on what was their first shot on goal. Jordan Greenway got the puck after a St. Louis Blues player had his stick snap in half trying to pass it. Greenway then found Eriksson Ek for the tap-in goal.
"That's how it is sometimes. You've got to be at the right place at the right time. You can't say everything is lucky, it's about being on the right side of guys and getting to the spot," Eriksson Ek said.
"Our first shot goes in was a big key for us. The crowd, they didn't wait for us tonight. They were right from the get-go jacked up, and that goal obviously was a big goal," Wild coach Dean Evason said.
Less than four minutes later, Freddy Gaudrau got the Wild's first power play goal of the series. He scored on a rebound off a Jonas Brodin shot. The Wild took a 3-0 lead into the first intermission after Kaprizov got his first goal of the series, scoring on a rebound off an Eriksson Ek shot.
Eriksson Ek continued his hot night with one of the best plays of the season, scoring 51 seconds into the second period to give the Wild a 4-0 lead. He stole the puck right in front of the St. Louis net and deked Ville Husso for a highlight-reel goal.
"It's not that impressive because it's just routine. It's literally routine for him. You play against Eriksson Ek, you better be ready to play. His work ethic is always on point," Evason said.
Jordan Kyrou scored on a power play at 12:34 of the second period and Vladimir Tarasenko scored at 4:14 of the third to cut the Wild's lead in half at 4-2. Kaprizov made sure that's as close as the Blues would get. He scored his second goal of the night on the power play at 11:47 of the third period, after a perfect feed from Mats Zuccarello on a 2-on-1, to make it 5-2.
Kaprizov added an empty-net goal 65 seconds later for the hat trick and a 6-2 lead.
"He's just going to do what he does, he's just going to play hard. He's just going to play through it, just stays the course and goes about his business. It shouldn't be a surprise," Evason said. "I'm just happy the Minnesota Wild scored goals."
Kaprizov scored the first Minnesota playoff hat trick since Dino Ciccarelli in 1981, but the honor almost went to Eriksson Ek. He thought he had a goal right after Kaprizov's second, but the Blues challenged the play and it was ruled offside. That was after Wild fans had already flooded the rink with hats.
The few hats that were left went on the ice after the empty-net goal.
"I don't care, it's about winning. It's what we want to do, but I think Moose (Marcus Foligno) should offer to buy some new hats for people," Eriksson Ek joked.
Kaprizov said he didn't change anything in his approach after the Blues had him contained in Game 1.
"I even think in Game 1 there was some chances that just didn't go in for us. So in Game 2, just try to stick to the same recipe, do the same thing and obviously things worked out. Just play the game," Kaprizov said.
There may not have been a bigger bounce back than Fleury. After allowing four goals in Game 1, he made 30 saves and made sure the Wild kept its lead in the second period as the Blues had a flurry of scoring chances.
Evason never hesitated to start Fleury in Game 2, despite Cam Talbot finishing the regular season 13-0-3 in his last 16 games.
"I'm glad I don't listen to a lot of the stuff. What does it matter? You know he's going to respond properly, it's what he does. It's how he does it, that's why we got him here," Evason said.
The Wild simply couldn't afford to lose Game 2 and head to St. Louis on Friday in an 0-2 hole. Now, the two teams are tied 1-1 and the Wild is guaranteed at least one more home game.