Vikings hold off Patriots 33-26 to improve to 9-2 on historic night for Justin Jefferson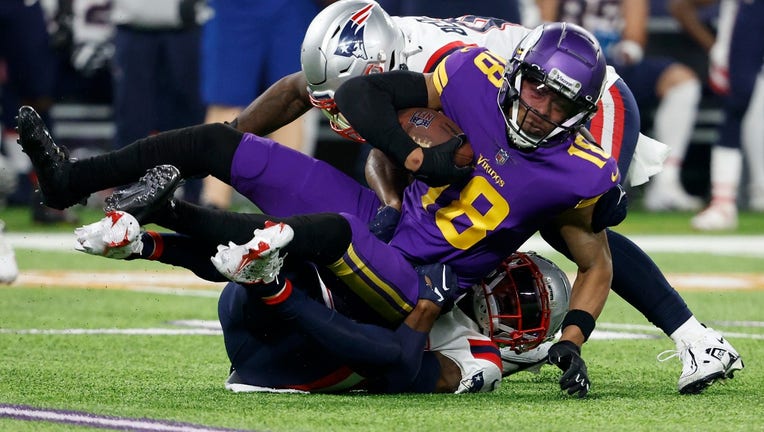 MINNEAPOLIS - Just four days removed from one of their worst home losses in franchise history, the Minnesota Vikings bounced back with a 33-26 win over the New England Patriots Thursday night in front of a sellout crowd at U.S. Bank Stadium.
Justin Jefferson entered the NFL record books yet again, in another historic performance. Jefferson had six catches for 94 yards and a touchdown in the first half, setting the league record for receiving yards in a player's first three seasons. His sixth catch, which went for 37 yards from Kirk Cousins in the second quarter, got him to 4,186 career receiving yards, passing Randy Moss's 4,163. The scariest part is Jefferson still has six regular season games to play.
"It means my course of reaching to the Hall of Fame is near. I'm just going to keep working, doing whatever it takes to make plays for this team. I love this team, I'll do anything for it. When the ball is in the air, it's mine," Jefferson said after the win. "I love it, these are the type of games I love the most. Thursday night, primetime, the whole world is watching. No better time to go off."
Jefferson also recorded his 21st career 100-yard game, which ties Adam Thielen for the fourth-most in franchise history, having not yet finished his third full season. Moss had a three-touchdown game on Thanksgiving in 1998 against the Dallas Cowboys and on Thursday, Jefferson did his best to put up a Moss-like performance. He finished with nine catches for 139 yards, and got his score on Minnesota's opening drive.
"He's one of absolutely the most special players I've ever been around. He tends to show up and be ready to go every time we put on the uniform. He was double-teamed a lot tonight. It was a big night for Justin," Vikings coach Kevin O'Connell said after the win. "I'm just so proud of the way he battles, the grit and the determination he's put into this. People sometimes forget it's still only year three."
Most importantly, the Vikings did Thursday night what good teams do four days after getting blown out on their home field by the Dallas Cowboys: Learn from the loss, shake it off and win the next game.
"That just shows what kind of group these guys are. We came in with a championship attitude," said tight end T.J. Hockenson, who caught his first touchdown as a Viking Thursday night. "You saw the focus throughout the week and to be able to come here and show it on the field, that really translates to what kind of team we have."
Hockenson's score, from 1-yard out, gave the Vikings a 16-13 lead with 1:30 left in the first half. The Vikings also got a special teams score Thursday. Kene Nwangwu returned a third quarter kickoff 97 yards for a score, immediately answering a go-ahead touchdown for the Patriots. 
With the game tied 26-26 in the fourth quarter, Cousins hit Adam Thielen, who finished with eight catches for 65 yards, with the game-winning score from 15 yards out with 9:34 to play. That came after the Vikings were punting, but the Patriots ran into punter Ryan Wright for a gifted first down.
"It was a play we were trying to run for a while. We finally got the look we wanted and Kirk just fired it in there," Thielen said.
Cousins finished 30-of-37 passing for 299 yards, three touchdowns and one interception. It's his first three-touchdown game this season.
It was not, however, a pretty night for the Vikings' defense. Mac Jones was 28-of-39 passing for 382 yards and a pair of touchdowns, one to Nelson Algholor and the other to Hunter Henry. The Patriots collected 409 total yards and averaged 7.3 yards per play. The Vikings gave up yards, but forced four Patriots' drives to end in Nick Folk field goals, and got stops on three straight drives in the fourth quarter with the game on the line. The Patriots also had a Henry touchdown overturned in the third quarter, which resulted in a field goal.
The last stop came with the help of a Danielle Hunter sack before a turnover on downs. They made plays when they had to.
After getting embarrassed on their home field four days ago, the Vikings responded with a critical win to improve to 9-2 on the season. They can clinch the NFC North title with a win over the Jets next Sunday, and losses by the Packers and Lions.
"On four days time to turn around after a loss that could leave a lot of teams searching, they just wanted to show back up to work. They came out here and had a ton of energy," O'Connell said. "My goal here is just to have our organization ready to put it all together, even when people don't' give us a chance or when adversity hits, that's when I happen to believe the best parts of our team come out."