'Unacceptable': Vikings demolished in 40-3 loss to Cowboys, win streak ends at 7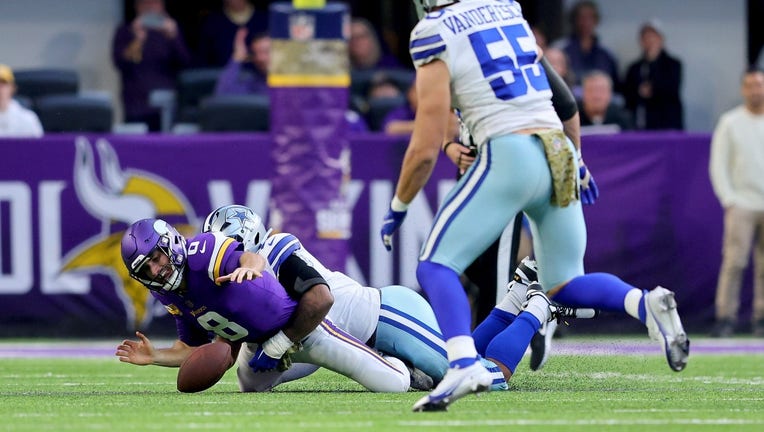 MINNEAPOLIS - Maybe the Minnesota Vikings bought into the national hype. Maybe it was an emotional letdown after a crazy win at Buffalo.
Whatever the reason, the Vikings' hot start under first-year head coach Kevin O'Connell came crashing down in a 40-3 loss to the Dallas Cowboys in front of a sellout crowd Sunday night at U.S. Bank Stadium, on national television. A seven-game win streak is over, the Vikings are 8-2 and the result was one-sided enough to raise eyebrows and questions the rest of the season.
The Vikings had won seven straight games that were within one possession in the fourth quarter. Last week, they rallied back from down 27-10 late in the third quarter to beat Josh Allen and the Bills. Sunday? They got bullied from the opening kickoff, trailed 23-3 at the half and never had a chance against the Cowboys.
"We know that's not who we are. That's a good football team, but we did ourselves no favors. We did not play our brand of football," said Vikings receiver Adam Thielen, who had two catches for 25 yards in the loss. "We didn't do the things that we always talk about that have helped us win eight games so far. The truth is we got our butts kicked."
It wasn't just that they lost, it was that they got dominated in every imaginable way.
It's the most lopsided margin for the Vikings since a 45-7 loss to the Green Bay Packers in November of 2011. It's their first home loss of the 2022 season, and their second-worst home loss in franchise history. Kirk Cousins also had his streak of at least one touchdown pass in 39 straight games as a starter come to an end. Cousins was sacked seven times, a career-high for a single game. He finished 12-of-23 for 105 yards before being pulled from the game in the fourth quarter.
In front of a national audience with a chance to gain more respect across the NFL, the Vikings were a complete no-show.
"A night where we didn't play well in any phase of our football team. Didn't coach well enough, didn't play well enough. This is not going to be the last time we have to respond after an emotional win to come back and play the next week with much more energy," Vikings coach Kevin O'Connell said. "Huge opportunity for our team to look inward. We've got to coach better, play better across the board. We'll be right back here in four days with an opportunity to get this taste out of our mouth."
The Vikings can't do much dwelling. They're on a short week, hosting the New England Patriots on Thanksgiving night. The Vikings also lost left tackle Christian Darrisaw to a concussion for the second time in as many weeks. O'Connell has already ruled him out for Thursday night.
The game started with Micah Parsons getting a strip sack fumble on third down on Cousins, flipping the field. The Vikings held the Cowboys to a field goal, but the tone was set. It was one of three sacks on Cousins in the first half.
The Cowboys out-gained the Vikings 298-94 in the first half, had the ball for nearly 20 minutes, were 8-of-10 on third down and took a 23-3 lead into the break after Brett Maher nailed a field goal from 60 yards out. Ezekiel Elliott scored a short rushing touchdown to give the Cowboys an early 10-3 lead, and Tony Pollard scored on a 30-yard pass, uncovered in the flat, for a 20-3 lead late in the first half.
Pollard delivered the early knockout punch on the opening drive of the third quarter. On 3rd-and-15, Dak Prescott hit him down the sideline, with Jordan Hicks in coverage, for a 68-yard touchdown and 30-3 lead. Elliott scored his second touchdown of the day with 8:15 left in the third quarter to give Dallas a 37-3 lead.
"I just know we had a good week of preparation and it didn't translate to us playing our style of football in any way, shape or form," O'Connell said. "November comes and sometimes you can get hit in the mouth. This league has a way of humbling any football team at any point in time if you don't play good football, and we did not tonight."
The Vikings got dominated at the line of scrimmage on both sides of the ball, a week after a thrilling comeback win over the Bills. It's the team's worst performance in O'Connell's early head coaching tenure. Dalvin Cook had 11 carries for 72 yards, Justin Jefferson had three catches for 32 yards and T.J. Hockenson had five catches for 34 yards on nine targets. But Cousins was under duress all day, behind an offensive line that had its worst game of the season. The Vikings managed just 183 total yards, 16 first downs and were 1-of-11 on third down.
Prescott finished 22-of-25 passing for 276 yards and two touchdowns. Pollard and Elliott combined for 30 carries, 122 yards and two scores. Pollard added six catches for 109 yards and two scores. Pollard finished with 189 total yards.
"Unacceptable. Nobody expected it, there was so many things that happened. We've got to watch the film and it's all not going to look good," Hicks said.
The second half featured Dalvin Cook getting an unsportsmanlike conduct penalty for trash talking former Vikings' coach George Edwards on the Dallas sideline, with the Vikings trailing 37-3, and former Vikings' safety Jayron Kearse doing a "Skol" chant celebration after sacking Cousins. Kris Boyd also got a 15-yard penalty for a late hit on a punt.
The Cowboys out-gained the Vikings 458-183 for the game. It got so bad in the third quarter that the CBS national broadcast switched from Vikings/Cowboys to the Bengals/Steelers game. The loss was so lopsided that despite being 8-2, the Vikings now have a minus-2 point differential through 10 games.
"It's certainly a disappointing outcome and what I've learned in this league is they all count one. Point differential doesn't end up becoming a thing that sticks with it, but the loss or win does," Cousins said. "We've got to find a way moving forward to get wins and play much better than we did tonight."
It's one game, but it's an alarmingly lopsided loss that should have the Vikings' attention for the final seven games of the season.
"Ultimately this is a challenge. This is going to be an unbelievable challenge for our team, four days from now we'll be right back here. I'm willing to put everything we got into this game on a short week, and I trust our guys and what we've built here to respond the right way," O'Connell said.