Time to panic? Vikings fall to 1-3 after 14-7 loss to Cleveland Browns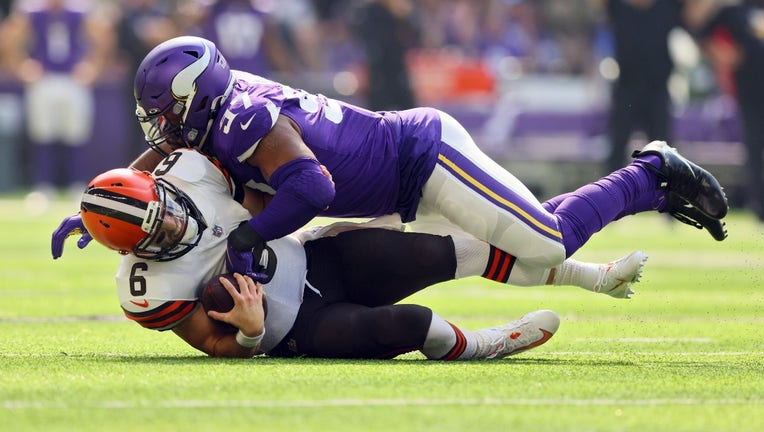 article
MINNEAPOLIS - The Minnesota Vikings are 1-3 through their first four games after a 14-7 loss to the Cleveland Browns on Sunday at U.S. Bank Stadium, but they're not talking like a team that's panicking or in crisis mode.
Just the opposite, in fact. The Vikings lost their first two games by a combined four points after a fumble in overtime at Cincinnati in Week 1, and a missed walk-off field goal in Week 2. Sunday, the Vikings drove 75 yards with ease on the opening drive for a touchdown, then didn't score the rest of the game. With the offensive line struggling, Kirk Cousins was sacked twice and under duress most of the day. He finished 20-of-38 passing for 203 yards, one touchdown and one interception. The Vikings ran for just 65 yards despite having Dalvin Cook back from a bad ankle, and the Browns scored 11 points in the last 1:19 of the first half to grab a lead they wouldn't give back.
Just like it was after an 0-2 start, the Vikings season is again at a crossroads after losing three of their first four games.
"I firmly believe that this is a good football team. We've just got to stick with it I believe," Vikings coach Mike Zimmer said after the loss. "We still got a lot of time left, we just have to get going and gotta continue to win some games."
"I think we're right there. I think we have a chance to be a really great team, but we've just got to put it together in these games that matter the most," said defensive end Everson Griffen, who had three tackles, including a fourth down sack on Baker Mayfield in the first half.
The Vikings drove 75 yards to start the game, with Cousins hitting Justin Jefferson on a 12-yard touchdown for the early 7-0 lead.
It took Cleveland nearly the rest of the first half to answer. The Browns needed seven plays in a goal-to-go situation, capped by Kareem Hunt's 1-yard run with 1:16 left in the first half. The Vikings had just made a fourth down stop and were getting the ball back, but Eric Kendricks was flagged for defensive holding on the play. Hunt scored three plays later.
The Vikings then had 12 players on the field for the point after, and tried to call a timeout they didn't have. The Browns took the delay of game penalty and turned it into a successful two-point conversion.
Minnesota's offense went 3-and-out before the end of the half, and the Browns took advantage. Hunt ran for 33 yards on a 3rd-and-20, and Chase McLaughlin made a 52-yard field goal to give the Browns an 11-7 lead at the break. McLaughlin added a 53-yard field goal with 6:16 left in regulation, which were the only points of the second half for either team.
After their opening scoring drive, the Vikings were shut out and managed just 180 total yards the rest of the game. They were just 5-of-16 on third down conversions.
"Every loss that we've had so far, it's been on ourselves. We've been killing ourselves, shooting ourselves in the foot so we've just got to finish. This team is very good, we've just got to play through all four quarters," receiver Justin Jefferson said.
That stretch after Jefferson's touchdown included six punts, four 3-and-outs, a turnover on downs and Cousins getting intercepted on a deep pass to Adam Thielen. Cousins took a chance with the offense struggling, and Greedy Williams picked it off with six minutes to play.
It was Cousins' first interception of the year, and first in 226 passes thrown.
"I knew it was going to be a jump ball, knew it was going to be an opportunity ball. I knew I was forcing it a little bit. Felt like with how we had been doing all day, it was worth a shot. Worth putting it up there for him," Cousins said.
Maybe most concerning for Zimmer and the Vikings was their run defense, or lack thereof. The Browns ran for 184 yards Sunday, with Nick Chubb and Hunt combining for 169 yards on 35 carries. They took advantage of nose tackle Michael Pierce being out most of the second half with a bad elbow that will require an MRI on Monday.
Zimmer didn't seem as concerned about his defense after the loss.
"I'm telling you now, they know how to run the football and those two backs run hard. I'm not discouraged one bit about the lack of stopping the run. At the end of the day, they scored one touchdown against us," Zimmer said.
The Vikings can't say they didn't have chances to win Sunday. The Browns finished 7-of-18 on third down, and punted six times in the second half with a one possession lead. Cousins had one last chance with a Hail Mary from the Browns' 26-yard line with two seconds left, but the pass fell incomplete to end the game.
The offensive line had played well two straight weeks, but took a big step back against the Browns.
"All I can say is we just didn't execute the way we wanted to," Jefferson said.
Stefanski, who led the Browns to an 11-5 mark in 2020, a playoff win and the NFL Coach of the Year award, leaves Minnesota with a win against the franchise he spent 15 seasons with.
The Vikings are 1-3 and insist they're closer to winning than what the product on the field indicates.
"I've been doing this 27 years, I know good teams and I know bad teams. I know that this team has a chance to be pretty darn good. We may not look like it right now because we're 1-3, even Kevin said to me before the game, 'You've got a really good football team here,'" Zimmer said. "They were just a little bit better than us today."
The Vikings end a three-game home stand with the Detroit Lions next Sunday.