Minnesota Vikings: An early look at the 2023 home, road opponents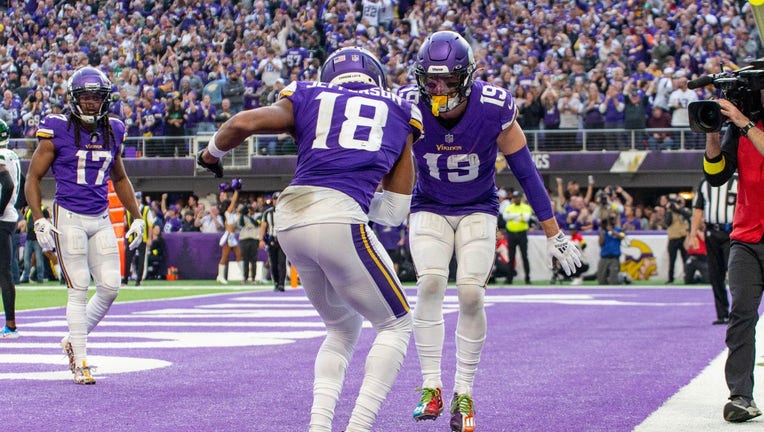 article
MINNEAPOLIS - The Minnesota Vikings finished the 2022 season 13-4 after beating the Chicago Bears 29-13 on Sunday.
The Vikings won their first NFC North Division title since 2017, and are getting ready to host the New York Giants in the NFC Wild Card Playoffs Sunday afternoon at U.S. Bank Stadium. As a result of their finish, we now know who the 2023 opponents will be.
Aside from the guaranteed six games against the NFC North, the Vikings will have nine road games and eight home games after having the opposite this season. They will face the entire NFC South and AFC West, get one home game against the NFC West, and road games in the NFC East and AFC North.
Here is a look at the home and road opponents for the 2023 season:
2023 HOME OPPONENTS
Chicago Bears, Detroit Lions, Green Bay Packers
NFC South: New Orleans Saints, Tampa Bay Buccaneers
AFC West: Kansas City Chiefs, L.A. Chargers
NFC West: San Francisco 49ers
As for quarterbacks, there's some interesting players coming to U.S. Bank Stadium next season. The Vikings will see Justin Fields, Jared Goff and either Aaron Rodgers or Jordan Love within the NFC North. Then it's who know with the Saints, Tom Brady, Pat Mahomes, Justin Herbert and either Trey Lance, Jimmy Garoppolo or Brock Purdy with the 49ers.
The Vikings will get four current playoff teams at home in the Buccaneers, 49ers, Chiefs and Chargers.
2023 ROAD OPPONENTS
Chicago Bears, Detroit Lions, Green Bay Packers
NFC South: Atlanta Falcons, Carolina Panthers
AFC West: Denver Broncos, Las Vegas Raiders
NFC East: Philadelphia Eagles
AFC North: Cincinnati Bengals
On the road, the Vikings will see Jalen Hurts, Joe Burrow, Russell Wilson, Derek Carr or Jared Stidham and who knows between the Falcons and Panthers.
The Vikings face only two current playoff teams on the road, but they're division champions in the Bengals and the Eagles, the No. 1 seed in the NFC.
We'll find out the order of the 2023 opponents in May.