Minnesota United to face Columbus Crew in friendly July 5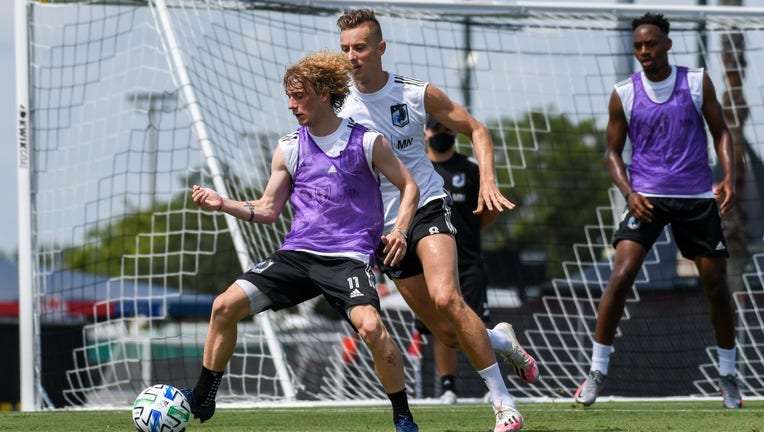 MINNEAPOLIS - Minnesota United held an intra-squad scrimmage last Saturday at Allianz Field before departing for Orlando on Sunday.
This coming Sunday, the Loons will face another team for the first time in more than three months. Minnesota United will face the Columbus Crew in a friendly in its final tune-up for the "MLS is Back Tournament," which starts July 8 at ESPN's Wide World of Sports in Florida.
Minnesota United took a chartered flight to Orlando on Sunday, wore masks and took two buses to their team hotel. They were sitting two seats apart, at minimum, and had food waiting for them at their hotel when they arrived.
Loons players had to be quarantined for 12 hours at their hotel until all their Covid-19 tests came back clear.
A video put out by the team on social media on Monday showed players doing a workout at their team hotel in Florida, followed by full team training outdoors at night to stay out of the Florida summer heat.
They held their first morning session on Tuesday.
"The first couple days out here have been great. Today, our first morning session. Last night, we trained at night. They were probably equally as warm, but it's been great. The pitch is nice, the facilities have been great and we're on our way," midfielder Ethan Finlay said.
The Loons were 2-0 with a pair of road wins and preparing to start a four-game home stand at Allianz Field in mid-March when Major League Soccer suspended its season due to the Coronavirus pandemic. Minnesota United will be in Group D for the "MLS is Back Tournament."
The Loons will face Sporting Kansas City on July 12 to open the tournament. Minnesota United will also face Real Salt Lake on July 17, and Colorado Rapids on July 22 in group stage play. The Loons would advance to the knockout stage by finishing no worse than second in Group D, or by being one of the three-best third place teams.
Finlay said the early emphasis of training in Florida with the heat and humidity has been on defense.
"Defending in this heat is a great equalizer. We have to have that willingness to defend and I think that's been our priority for the first couple days," Finlay said.
The knockout stage will feature a round of 16, quarterfinals, semifinals and a championship match on Aug. 11. The winner of the tournament gets a spot in the 2021 Scotiabank Concacaf Champions League.
All games will be played without fans in attendance, and all teams and players will be adhering to strict Covid-19 guidelines.
The hope is that teams can go back to playing in their home markets after the tournament concludes.