Minnesota United steals 2-1 win over Sporting Kansas City at MLS is Back Tournament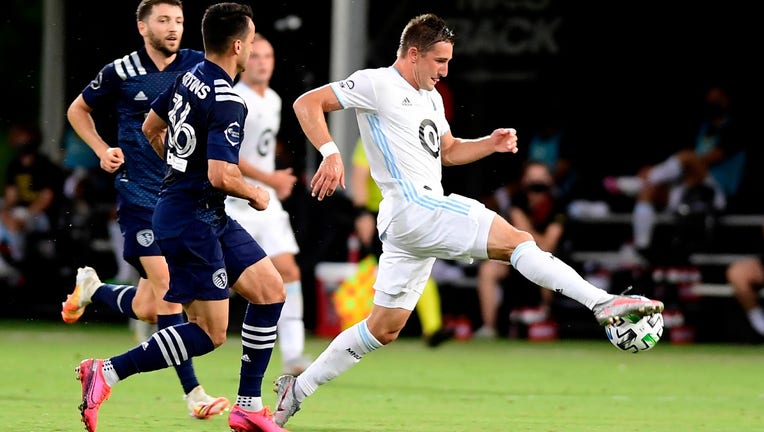 article
MINNEAPOLIS - Minnesota United played its first Major League Soccer match in four months Sunday night at the MLS is Back Tournament, and the Loons scored a pair of goals in stoppage time to steal a 2-1 win over Sporting Kansas City at ESPN's Wide World of Sports in Orlando.
The win not only earns the Loons three points in group stage play for the tournament, it also gives them a 3-0 start to the MLS season and points in the regular season standings.
Minnesota United got the win with three regular starters out before the game. Ike Opara didn't travel with the team to Florida over concerns with pre-existing health conditions, Ozzie Alonso is nursing an injury and Luis Amarilla got injured during pregame Sunday. Adding to that, Mason Toye left the game in the second half grabbing his right hip and didn't return.
Despite the adversity, Kevin Molino provided the heroics with the game-winning goal in the final minute of extra time. For about the first 65 minutes, the Loons looked like a team that hadn't faced an opponent in four months. They spent most of that time in their own defensive zone. 
"At a stage today I would've taken a point willingly. To come out with the three is huge for us. It sets us up nicely for the game now on Thursday, but we will be better. We can be better, I think we will be better," Loons' coach Adrian Heath said after the win.
Minnesota United trailed 1-0 when the game changed. Sporting KC goalkeeper Tim Melia got a red card for challenging Aaron Schoenfeld on a clear scoring opportunity. Kansas City was down to 10 players, and their back-up keeper, for the final 13 minutes of regulation and stoppage time.
Minnesota United used a set play in extra time to get in the scoring column. In the 92nd minute, Jan Gregus sent in a free kick that Schoenfeld tried to get a head on. The ball deflected off Sporting KC's Khiry Shelton and into the net for an own goal, tying the game 1-1.
Five minutes later, the Loons stole the win as Molino scored in the final minute of stoppage time.
"We had to show a lot of character and adversity, that's what this group did. This was a character win," midfielder Ethan Finlay said. "We know we can play far better than that, but to deal with everything we've had to deal with the last three months, it doesn't quite get more dire than that. This group never gave in and played to the very end."
Minnesota United went down 1-0 on Shelton's breakaway goal in the 43rd minute after Loons' goalie Tyler Miller abandoned the near post. The Loons appeared to tie it in the second half after Finlay kicked in a Molino deflection on a corner kick, but Finlay's goal was waved off after video review showed Molino was offside.
The Loons got off to a slow start, but found their legs the final 20 minutes and got the late heroics from Molino to win their first match in four months.
"We were a little bit in shambles, I'm not going to lie to you. To get three points out of tonight with everything we've had to deal with, I'm extremely proud of this group top to bottom," Finlay said.
Sunday night's game didn't come without some concerns after a Sporting KC player tested positive for Covid-19 earlier in the week. FC Dallas and Nashville have had to leave the tournament due to multiple positive tests.
There was some question if Sunday's game would even be played.
"We never heard anything official, it was just a lot of rumors. Obviously we trust every single health worker, we see them every second day and we trust the job that they're doing to keep us safe. They've been phenomenal," defender Michael Boxall said. "We know within our group we're doing everything we can to keep each other safe and healthy. For me as soon as the whistle blows, that's the last thing on your mind."
Group stage play continues for Minnesota United Friday night against Real Salt Lake.