Minnesota United season ends in shootout loss to FC Dallas in MLS Cup Playoffs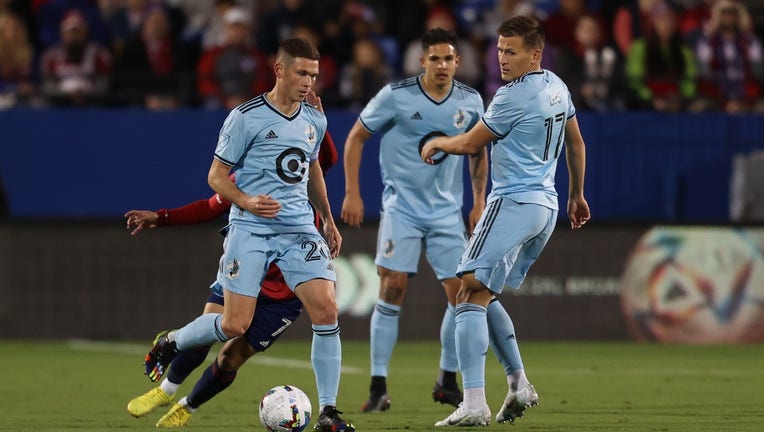 article
MINNEAPOLIS - It took penalty kicks for it to happen, but Minnesota United's season came to an end in the first round of Major League Soccer playoffs at FC Dallas Monday night.
Tied 1-1 after 90 minutes, neither team scored in 30 minutes of extra time. Dayne St. Clair made the biggest save of the night for the Loons, stopping what might have been a game-winning goal in the 110th minute just before it was headed across the line. 
The game went to penalty kicks, and FC Dallas scored on all five of their chances against St. Clair. The difference was in No. 2 shooter Wil Trapp, who had his shot saved. Dallas advances to face Austin FC in the Western Conference semifinals, while the Loons' season comes to an end after 14 regular season wins, and needing a win on "Decision Day" just to get to the MLS Cup Playoffs.
"It's disappointment. Any time you lose, especially penalties, it's tough to swallow. The guys deserved more, but that's what it boils down to. That's just the way penalty shootouts can go, unfortunately I was the one that didn't convert," Trapp said. "You just kind of have to trust what you're doing and pick a spot and go for it. The goalkeeper guesses right and makes a good save."
"We win together, we lose together and we all have to take a share of the responsibility. No one player swallows the game, and generally it takes the team to win matches," Loons' coach Adrian Heath said after the loss. "We've all been there, we've all scored them, we've all missed them. You can't hide the disappointment that he feels, because you do take that responsibility on yourself."
Minnesota's fourth straight trip to the postseason comes to an abrupt ending.
The Loons took a 1-0 lead in the 53rd minute after Trapp sent a long ball to Bongokuhle Hlongwane, who found Emanuel Reynoso and he beat the FC Dallas keeper for a goal. It lasted about 11 minutes, as Dallas tied the game 1-1 in the 64th minute as Facundo Quignon's header off a flick from a corner kick beat St. Clair.
St. Clair tied a career-high with eight saves in regulation, but FC Dallas scored on all five of its penalty kicks. The Loons' season ends with a first round playoff exit, and a 14-15-6 record.
"We all dream of can we win three or four games to get us there. I know this team is capable of that. It's been a difficult year, it's been very inconsistent," Heath said. "But when I think of the performance of the players and everything that we asked of them, I couldn't have asked any more of the guys this evening."