Minnesota Twins announce plans for 2023 home opener at Target Field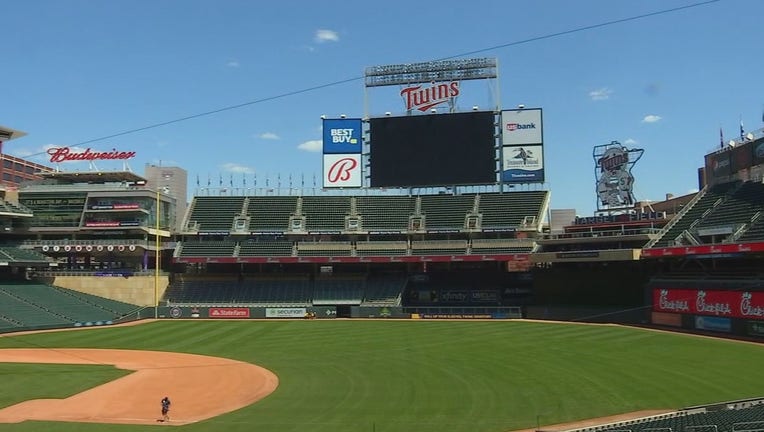 article
MINNEAPOLIS (FOX 9) - We're still waiting for the snow to melt from a very long winter, but Minnesota Twins baseball is exactly one week away.
The Twins open the 2023 regular season with a three-game series at the Kansas City Royals as part of a six-game road trip. The Twins return to Minnesota and Target Field for the home opener against the Houston Astros on April 6, a three-game series that's part of a six-game home stand.
Twins officials on Thursday announced plans for the 2023 home opener, a 3:10 p.m. first pitch at Target Field.
The Twins will wear their new home uniform, including a tri-color batting helmet with a new TC mark. The team is also expected to wear its alternate "Twin Cities" home uniform with the Twins' heritage cream color for the first time on Sunday, April 9.
The April 6 home opener will mark the debut of new scoreboard technology at Target Field. The center field scoreboard has gotten upgrades, as has the Minnie & Paul celebration sign and there will be a new baseball medallion atop a tower in right field.
Pregame festivities include Breakfast on the Plaza from 6 a.m. to 9 a.m. Fans can drive, walk or bike on 7th Street to get a free ballpark breakfast.
The first 20,000 fans through the gates will receive a new TC hat.
Ceremonial first pitches will be thrown out by Jimmy Jam and Terry Lewis. The National Anthem will be performed by one of the stars from the Broadway musical Hamilton. Cast members will also sing "God Bless America."
To celebrate the 50th anniversary of Special Olympics Minnesota, the Buffalo Community Special Olympics will lead "Take Me Out to the Ballgame" during the seventh inning stretch.
The Twins are looking for a bounce-back season in 2023 after missing the American League Playoffs two straight seasons. They brought back star shortstop Carlos Correa on a six-year contract, and traded for starting pitcher Pablo Lopez.
The Twins have 16 home games in April, which includes a three-game series with the New York Yankees April 24-26. The Twins also have their first home division series against the Chicago White Sox, April 10-12.