Timberwolves lose play-in game to Lakers 108-102 in OT, season on the line Friday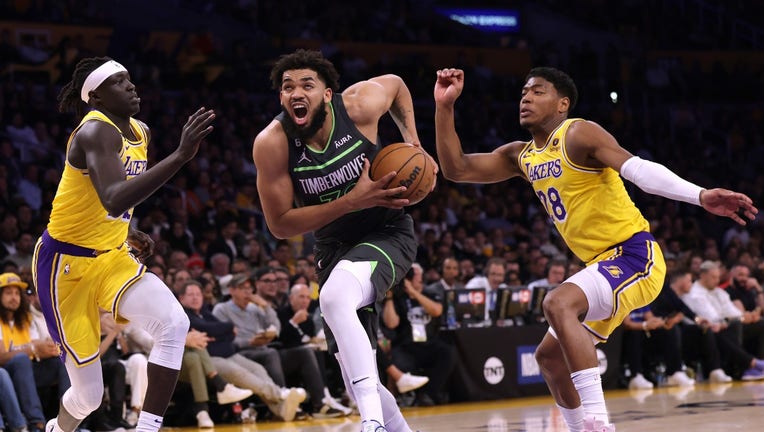 article
MINNEAPOLIS (FOX 9) - The Minnesota Timberwolves season is on the line Friday night after losing to the L.A. Lakers 108-102 in overtime in the NBA Play-In Tournament Tuesday night.
The Timberwolves led by as many as 15 points in the third quarter, but went seven minutes without a making a shot between the end of regulation and the start of overtime. Minnesota was without Rudy Gobert, Jaden McDaniels and Naz Reid, committed 24 turnovers and Anthony Edwards shot just 3-of-17 from the field, and it probably should be flying home winners.
"We fought all the way through the end of overtime, we just didn't play good offense. We should've won this game," Timberwolves coach Chris Finch said after the loss.
Instead, the Lakers are the No. 7 seed for the Western Conference Playoffs. The Timberwolves will host the winner of the Oklahoma City Thunder and New Orleans Pelicans Friday night for the final playoff spot in the West. If the Timberwolves win Friday, they would open the playoffs against the Denver Nuggets.
Karl-Anthony Towns had 24 points, 11 rebounds and five assists. Mike Conley had 23 points on 7-of-11 shooting from the field, including 6-of-8 from the perimeter and three free throws with .1 seconds to play to send the game to overtime. Taurean Prince had 14 Points, and Kyle Anderson added 12.
"It's disappointing. It's difficult when you leave without a win and you feel you played good enough to win," Towns said.
But between Towns battling foul trouble late and Edwards not himself offensively, the Timberwolves managed just 16 points over the final 17 minutes of game time. Over the final 11 minutes, the Timberwolves missed 14 of 16 shots and committed eight turnovers. Edwards took an awkward fall defending a shot, came back from the locker room with his left shoulder taped but didn't play with his usual aggressiveness after taking the fall. Finch didn't say if Edwards was hurt after the game, other than maybe cramping.
Minnesota entered the night short-handed as Reid is out with a broken wrist, McDaniels is out with a broken hand and Gobert didn't travel with the team to L.A., suspended after throwing a punch at Anderson on the bench during a timeout on Sunday.
Anthony Davis had 24 points, 15 rebounds, four assists, three blocks and two steals for the Lakers. LeBron James had 30 points, 10 rebounds and six assists. But Dennis Shroder was the difference, with 21 points, including a go-ahead 3-pointer with 1.4 seconds to play before Conley's free throws.
Towns didn't score a single point in the fourth quarter or overtime.
"He was in a heck of a rhythm until they whistled him to the bench," Finch said.