Beatdown at The Bank: Gophers fall to Michigan 52-10, drop to 3-3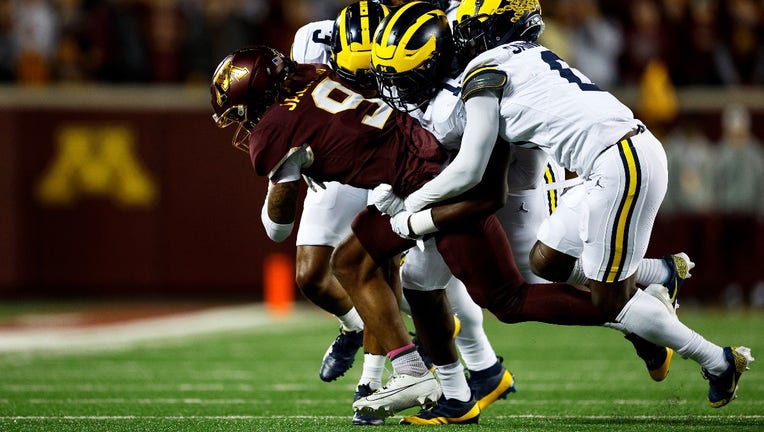 article
MINNEAPOLIS (FOX 9) - The University of Minnesota football team knew it probably had to play a perfect game, and get some help from No. 2-ranked Michigan, to pull off an improbable upset Saturday night at Huntington Bank Stadium.
The Gophers played far from their best football, and the Wolverines never took their foot off the gas in a 52-10 win to keep the Little Brown Jug. Minnesota falls to 3-3 on the season, and 1-2 in Big Ten play. Michigan came in averaging 34.4 points per game, and allowing less than seven. They have one of the best defenses in the country, and playmakers on offense. They've been in the College Football Playoff semifinals two straight years. 
The Gophers entered as 19.5-point underdogs, but the outcome was even more dominant than anything put on paper. It was a complete mismatch in every way.
"They're as good as advertised. I think they're the best football team I've seen in 11 years of being a head coach," Gophers coach P.J. Fleck said after the loss. "I've never seen a football team like that, that deep. They are truly like a Boa constrictor, and they do not beat themselves. No. 1, it falls on me 100 percent. We got beat tonight, period. We didn't lose the game, they beat us, period. In every facet of the game, in every aspect of the game."
Fleck drops to 0-3 in his career against the Wolverines. It's Minnesota's worst loss to Michigan since a 58-0 defeat in 2011 under Jerry Kill. It's the program's worst home defeat since a 58-7 loss to the Wolverines in 1993. The last time the Gophers beat Michigan? It was a 30-14 win in Ann Arbor in 2014 under Kill, a season that ended at the Citrus Bowl. 
Athan Kaliakmanis struggled, going just 5-of-16 for 52 yards, one touchdown to Daniel Jackson and having two passes intercepted and returned for touchdowns. The first was on the second offensive play of the game, the second gave the Wolverines a 45-10 lead in the third quarter.
In six starts as the first-year full-time starter, Kaliakmanis has had his ups and downs.
"This is the first half of the season, it's done. We can't change our past, it's the line of success. This is life, this really is life," Kaliakmanis said. "We all know we can be better, I love these dudes. There's no other group I'd want to go to war with. Michigan is a very, very good football team."
J.J. McCarthy leads one of the most efficient offenses in the country, and they showed why against the Gophers. McCarthy finished 14-of-20 passing for 219 yards and one touchdown, and ran for two more. Blake Corum had nine carries for 60 yards and a touchdown.
The Gophers ran for 117 yards against the Wolverines, but couldn't hold up in pass protection as Kaliakmanis was sacked twice and faced pressure much of the night. The defensive line didn't pressure McCarthy at all, and his night was done by the end of the third quarter.
If one wants to search for any positives on the night, it's that the Gophers scored 10 first-half points on a Michigan team that hadn't allowed more than seven in a game all season. Those points came on a Dragan Kesich field goal in the first quarter, and a 35-yard touchdown pass to Daniel Jackson with six seconds left in the first half. 
Zach Evans and Bryce Williams also had a combined 22 carries for 85 yards against the Wolverines, a top-15 rushing defense.
The Wolverines out-gained Minnesota 432-169 on the night. The Gophers went just 3-of-14 on third down, managed 47 total yards in the second half and were out-scored 28-0. Michigan also had seven tackles for loss on the night.
The Gophers now get a week off to do some soul-searching before traveling to Iowa for Floyd of Rosedale. Their 3-3 record includes a walk-off win over Nebraska, handling Eastern Michigan and Louisiana, losing at North Carolina and blowing a three-touchdown lead in an embarrassing loss at Northwestern.
"That's the first half of the season, that's over. We've seen everything. There are six games, we've played two top-20 teams, one top-five team out of those six games. We've played really good teams, and now we've got to learn from those six games, draw a line in the sand and play way better in the second half," Fleck said. "I've got to coach better, we've got to do everything in every department better. We've got to draw a line in the sand and get after this next half of the season."