Minnesota Aurora: How to watch Aurora vs. Chicago Dutch Lions on June 7 on FOX 9+
EAGAN, Minn. (FOX 9) - Minnesota Aurora FC looks to continue its unbeaten streak Wednesday night against Chicago Dutch Lions, a game you can watch on FOX 9+.
Wednesday's game is set for a 7 p.m. kickoff at TCO Stadium in Eagan. You can watch the game for free, over the air on FOX 9+ (over the air 9.2, Dish/DirecTV 29, Comcast 10/807, Mediacom 10/803, Spectrum 10) and streaming in the player above, on FOX9.com, the FOX 9 app, and FOX 9's YouTube channel.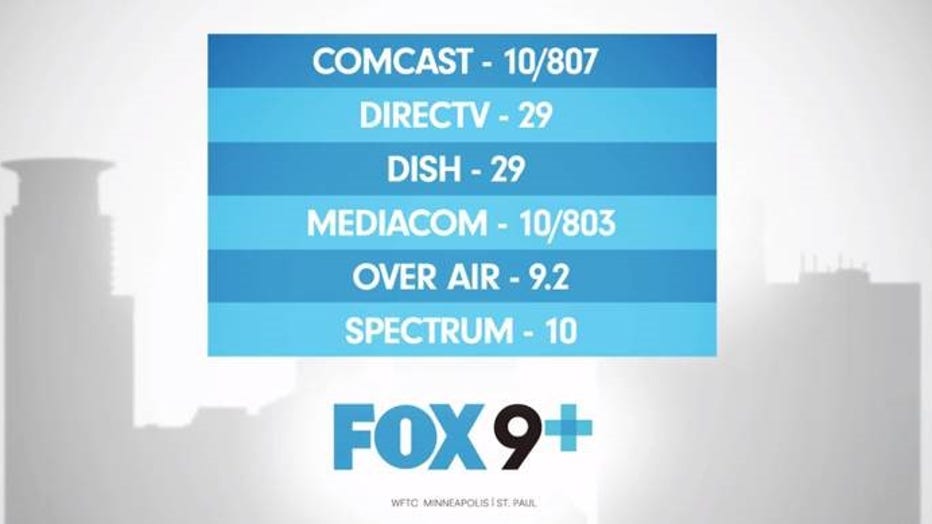 How to watch FOX 9+. (FOX 9)
Minnesota Aurora is off to a 4-0 start and leads the Heartland Division of the USL-W after getting a 1-0 win at Rochester FC on Sunday. Last Wednesday, Aurora set a franchise record for goals in a single game after a 10-0 win over RKC Third Coast. Maya Hansen led Minnesota in that win with a first-half hat trick.
Tianna Harris, who also had a goal in that win, scored the lone goal on Sunday with a header on an Addy Weichers free kick.
Minnesota Aurora FC is looking for a regular season sweep of Chicago Dutch Lions after getting a 4-0 win in the first road game of the season. Hansen added a pair of first half goals, and Mariah Nguyen scored her first goal of the season in the 89th minute.
Minnesota Aurora is fifth in USL-W play with 20 goals through four games. Their +20 goal differential is third in the league. Minnesota Aurora FC has won 15 straight regular season games, with their only loss as a franchise coming to Georgia Tormenta FC in last year's USL-W title game.
All Minnesota Aurora home games will be on FOX 9+ in 2023. Here's the Aurora's home broadcast schedule: 
Wednesday, June 7, 7 p.m. vs Chicago Dutch Lions
Wednesday, June 14, 7 p.m. vs Green Bay Glory
Saturday, June 17, 7 p.m. vs Bavarian United
Saturday, July 1, 4 p.m. vs Chicago City SC