Max Kepler's 4th inning trip provides laugh in Twins loss to Mariners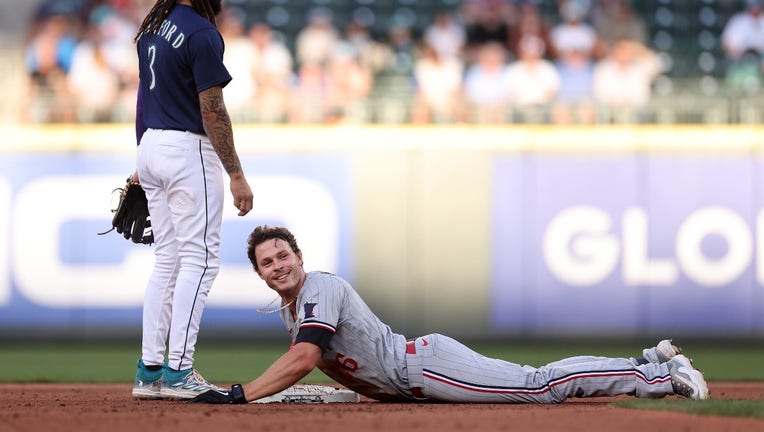 article
MINNEAPOLIS (FOX 9) - The Minnesota Twins social media team isn't afraid to poke a little fun at their players in the right situation, and Monday night was a perfect example despite a 7-6 loss to the Mariners at T-Mobile Stadium.
Kepler led off the fourth inning with a base hit to right. As he got out of the batter's box up the first base line, he went for a tumble as he tripped over his own bat. Perhaps most impressively, he got up quickly enough that he was still able to leg out a double after hesitating going around first. He was able to laugh about it at second base after the fact, and probably got a hard time from his teammates in the dugout after.
Former Twin and current analyst Justin Morneau took a hockey cheap shot, saying "two minutes for tripping." Video of the moment immediately went on social media.
Kepler finished the night 2-for-5, including a three-run homer in the top of the ninth, but it wasn't enough as the Twins had a three-game win streak out of the All-Star break snapped.
It's been a tough season for Kepler, who is hitting just .214 with 13 homers in 68 games. He came up with the bases loaded and two out in the seventh, with the Twins trailing 5-3, after a Donovan Solano walk. On the first pitch of his at-bat, Kepler hit a weak groundout to second to end the threat.
After four clean innings, Sonny Gray completely fell apart and didn't get through the sixth, allowing five earned runs on four hits while walking four and hitting a batter.
WHAT'S WRONG WITH BYRON BUXTON?
Byron Buxton doesn't have a hit since the All-Star break, currently on an 0-for-17 skid with 10 strikeouts. He's also just 1-for-31 since July 5.
Buxton went 0-for-5 with three strikeouts Monday night, and looks completely lost at the plate. He's been the designated hitter all season, and that venture largely has not panned out. He's hitting just .196 with 15 homers, 12 doubles and 36 RBI in 77 games.
The Twins refuse to put him in the outfield, and Rocco Baldelli said earlier this season, "if he was physically capable of being out there, he would be out there." The Twins have not specified if Buxton is playing DH due to injury, if his previous knee issue is lingering or if they fear putting him back in center field is too great a risk for another injury.
Something has to change, perhaps his spot in the lineup. Buxton doesn't add much value to the Twins if he's not playing defense while he struggles at the plate. He does the Twins no good if on the bench and not running the bases.