Luke McAvoy's must-read coming out story, and the acceptance from his Gophers teammates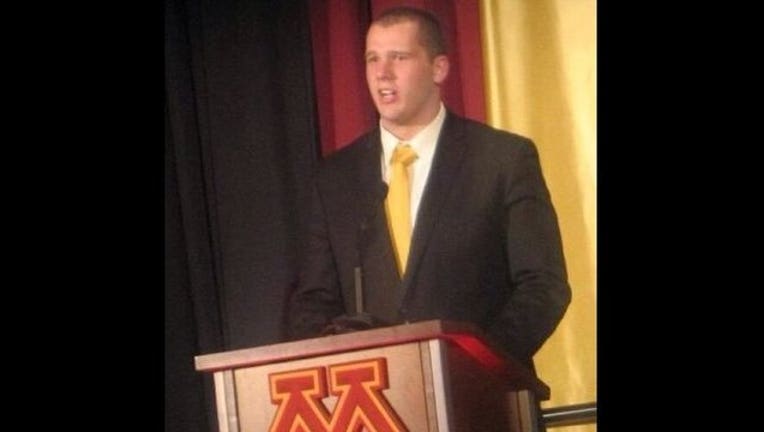 article
MINNEAPOLIS (KMSP) - Luke McAvoy says he wishes he came out sooner. He says it was Michael Sam who gave him the comfort to come out. And he says it was the acceptance from his University of Minnesota teammates that made a lasting impression.
McAvoy published an article Wednesday morning for Outsports.com, with a gripping first sentence: "There is something unique about discussing the merits of gay marriage while in the locker room showers with 11 other naked men, but that is where I found myself during my sophomore year at the University of Minnesota in 2012."
McAvoy heard a voice in his head that was screaming, "I am gay! How have you not found out?" He explains how he first came out to his mother during his season of high school football in Bloomington, Illinois. She urged him to hide his sexual orientation from the world, but it was the Michael Sam's pre-NFL Draft coming out that became McAvoy's courageous catalyst.
"I am incredibly grateful to him," McAvoy wrote of Sam. "Selfishly he allowed me a chance to judge my friends' reactions before really telling them. It took another two days until we could all sit down together and chat."
McAvoy said the "support, acceptance and love" from his Gophers teammates "outweighed all the negativity," beginning with the first reaction from the first two teammates he told.
"I was ready for them to go off, to demand to go home," McAvoy wrote. "I expected them to disown me. None of that happened. Instead, I heard, 'that takes balls, man' and 'I am proud of you.'"
Read Luke McAvoy's story at http://www.outsports.com/2016/2/10/10925202/luke-mcavoy-university-minnesota-college-football-gay-coming-out