Late comeback fails as Rockets beat Wolves 104-101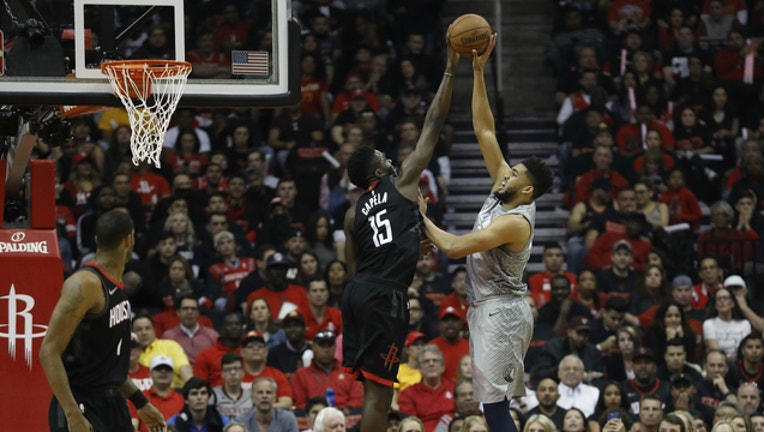 article
HOUSTON (AP) - James Harden scored 44 points and powered a big fourth-quarter run that allowed the Houston Rockets to outlast the Minnesota Timberwolves 104-101 on Sunday night in Game 1 of the first-round playoff series.
Minnesota scored four straight points to get within 3 with about 30 seconds left. Chris Paul added two free throws after that for Houston, but a tip-in by Karl-Anthony Towns got Minnesota back within 3. After a bad pass by Paul gave the Timberwolves a chance to tie it with 1.5 seconds left, Jimmy Butler's shot was short. 
The Timberwolves had a one-point lead with about seven minutes left when Houston used a 9-0 run, with the last seven points from Harden, to make it 94-86 with about four minutes to go. Harden, who also had a steal in that span, capped the run with a 3-pointer that prompted Minnesota coach Tom Thibodeau to call a timeout. 
Jeff Teague ended Minnesota's scoring drought with two free throws after the timeout and added a 3-point play after a basket by Harden. Harden made another shot to give him 11 straight points for Houston before another basket by Teague. 
Harden got Capela in on the scoring after that, finding him for an alley-oop that pushed the lead to 101-93 with less than three minutes left.  
The top-seeded Rockets had their hands full with the No. 8 Timberwolves on a night where Houston made just 10 of 37 3-pointers. Harden made 7 of 12 3-pointers, but Trevor Ariza, P.J. Tucker, Eric Gordon and Paul combined to make just 3 of their 22 tries. 
Houston kept All-Star big man Towns in check, limiting him to just eight points after he'd averaged 21.3 in leading the Wolves to their first playoff appearance since 2014.  Andrew Wiggins scored 18 points to lead Minnesota.
The Wolves scored the first nine points of the second half to take a 56-54 lead. Tucker made a 3 for the Rockets after that, but Minnesota used a 6-1 spurt, with 3s from Wiggins and Teague, to go back on top 62-58.
The Rockets had managed just six points in the quarter when Gerald Green made a basket with to cut the lead to 1 with about five minutes left in the third. Derrick Rose added a bucket seconds later, but Houston scored six straight points after that to put Houston up 68-65. Harden got things going when he made a 3-pointer while being fouled by Rose and also made the free throw. 
Minnesota led by a basket after a jump shot by Towns with about two minutes left in the quarter. Harden took over after that, scoring the last six points of the quarter to leave Houston up 76-72 entering the fourth. 
Harden hit a 3-pointer before making a driving layup he was fouled on by Gorgui Dieng. Harden flexed each bicep twice while peering down at the muscles after the shot before making the free throw. 
The Rockets swept the regular-season series 4-0, winning by an average of 15.8 points a game and it looked like this one might be another blowout early as the Rockets raced out to a 17-6 lead behind 10 early points from Clint Capela. But the Timberwolves got going after that and had tied it up by late in the first quarter. 
The Rockets led 54-47 at halftime.
UP NEXT
Game 2 is Wednesday night in Houston.