Vikings: How the band 'Creed' is potentially saving Minnesota's season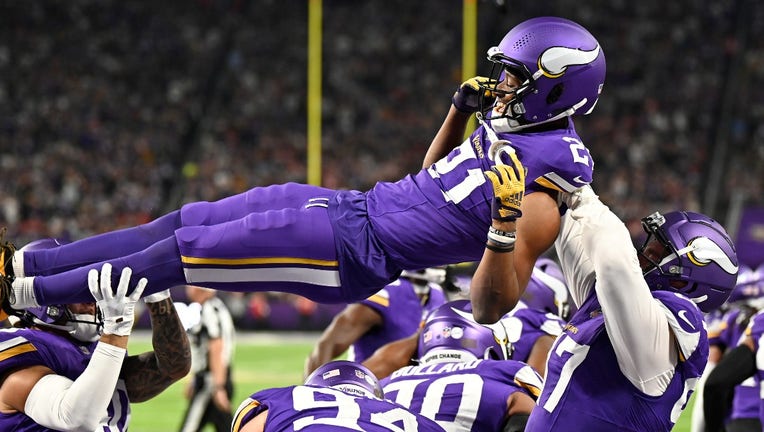 article
MINNEAPOLIS (FOX 9) - The Minnesota Vikings are remembering how to have fun again while playing football, and it might have come just in time to save their season after an 0-3 start.
Vikings' players were in the locker room at U.S. Bank Stadium Monday night getting ready to face the San Francisco 49ers on national television. Kirk Cousins was getting his ankles taped. Garrett Bradbury was getting body work done with team trainers. Then, it happened. The speakers started blaring the Creed song, "Higher."
They played it in the locker room last Sunday before a 19-13 win over the Chicago Bears at Soldier Field.
Monday night, Bradbury got up from the training table and went to listen to the song with teammates. They were about to turn it off to have a team prayer before kickoff, when Harrison Smith chimed in.
"This is the prayer," Smith said.
The Vikings got a 22-17 win over the 49ers, one of the best teams in the NFL, and have now won three of their past four games after an 0-3 start. The Texas Rangers have used Creed in the American League Playoffs, and are now headed to the World Series.
"I gotta say it, Creed. It was really good morale. They keep playing 'Higher' and I'm going Creed has a lot of good hits, they've got a good catalog. We don't only have to play 'Higher,' but they're taking us higher, so we'll take it," Vikings quarterback Kirk Cousins said after Monday night's win.
Creed is one piece of the Vikings having fun again. Cousins was giving a postgame on-field interview when Justin Jefferson, on injured reserve, kindly interrupted and put a "Top 10" chain around his neck.
The Vikings also weren't lacking in celebrations, either. They forced three turnovers, and Cam Bynum became the choreographer. It started with a human limbo after recovering a Christian McCaffrey fumble. Then, a game of Duck, Duck, Gray Duck. Bynum broke out the Worm after an interception, and posed for pictures.
Jordan Addison threw his hands up in an "I don't know" motion after catching a touchdown pass.
It's a safe bet the Vikings will have Creed blaring in the locker room until something changes. After an 0-3 start, they're now a win at Green Bay away from getting back to .500 on the season, and they're in sole possession of second place in the NFC North Division.