Gophers women's hockey team aiming to leave Frozen 4 with title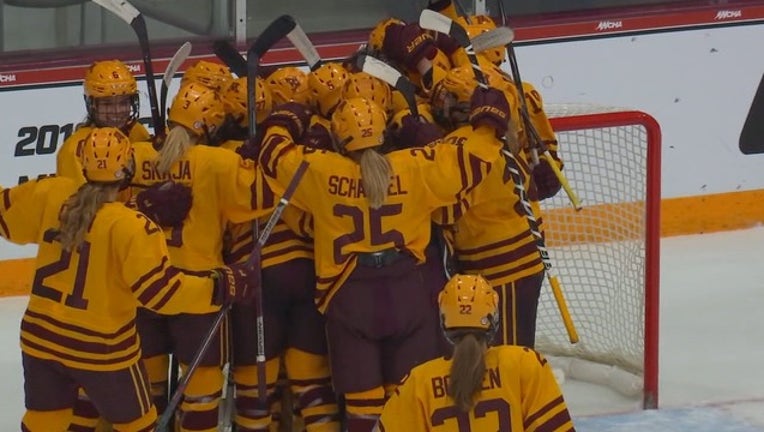 MINNEAPOLIS (FOX 9) - Going to the NCAA Frozen Four is nothing new to the Minnesota women's hockey program.
But, it will be for 12 Gophers freshmen and sophomores who weren't on the team in their last appearance two seasons ago. Minnesota is back and seeking to get one game closer to a national title when it faces Cornell Friday afternoon.
It's Minnesota's 14th appearance in the Frozen Four. The Gophers (31-5-1) are seeking their eighth national championship.
"We're trying to make our team better and enjoy the experience and enjoy the ride. I'm really happy for our team to be making it back to the Frozen Four after missing out on it last year. Half our team hasn't been there," Gophers coach Brad Frost said.
For the 14 current players on roster that have been in the Frozen Four, they treat it like business as usual as much as they can. That's also not easy to do when you're two wins away from a national championship.
Before they can even think about that, the Gophers have to beat Cornell on Friday. Cornell beat Northeastern 3-2 to advance to the Frozen Four and is 24-5-6 on the season. Minnesota beat Princeton 5-2 last Saturday at Ridder Arena to advance, but the victory was much closer than the score would indicate.
The Gophers and Tigers were tied 2-2 into the third period before Minnesota scored three goals, two via empty net.
"To play Princeton who is a really, really good team and challenged us, we were forced to stick together and be put under pressure. That will only help us in the end," freshman Amy Potomac said.
Minnesota will be a hungry team coming in after failing to reach the Frozen Four last season. The Gophers finished the 2017-18 season 24-11-3, but lost at Wisconsin 4-0 in the NCAA quarterfinals.
Two years ago, they got to the Frozen Four, but lost to Clarkson 4-3.
This year, Wisconsin faces Clarkson in the other semifinal. Get a win over Cornell, and the Gophers will be settling unfinished business in the national title game either way. They split four regular season games with the Badgers this season, and got the No. 2 seed in the NCAA Tournament after losing to Wisconsin in the WCHA Final Faceoff.
"Both Wisconsin and us have games to win before we even get there, so our goal is to get to that national title game regardless of who it's against," Frost said. "The focus is on Cornell right now."
It's senior Kelly Panek's last Frozen Four. She's going to do everything she can to enjoy it.
"The memories, the joy, the experience is all the same. I think it's important to remember that because it's a game. We play it because we love it, and we have fun. That's the most important thing to remember and that's honestly when we play our best," Pannek said.