Gophers take 6-game win streak to final stretch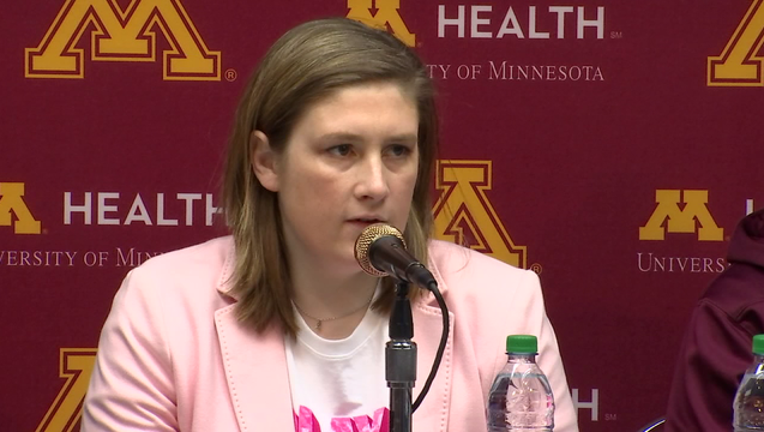 MINNEAPOLIS (FOX 9) - Lindsay Whalen isn't even done with her first regular season as a Division I head coach, but her Gophers are on the verge of some history.
Minnesota beat Penn State 97-67 on Sunday despite a slow start in its annual Pink Game, dedicated to the Kay Yow Foundation. Yow was the head coach at N.C. State until 2009, when she died from cancer.
The win was the sixth straight for the Gophers, who haven't won seven straight in Big Ten play since 2002. That's when Whalen was a sophomore point guard for Minnesota. The Gophers are eighth in the Big Ten at 8-7 with three games left. The next two are on the road at Maryland and at Rutgers, two of the top teams in the conference.
Minnesota cruised to the win Sunday, but it wasn't without a big scare. Leading scorer Kenisha Bell went down two minutes into the game with an ankle injury and had to be helped off the floor. She returned before the end of the first quarter and helped lead Minnesota in the win with 17 points on 7-of-12 shooting.
"It was nerve-wracking for a second for sure. I know Key is tough though, I mean I didn't know and next thing I knew she was able to be back so she probably went and walked it off," Whalen said after Sunday's win. "She toughed it out and was huge for us."
Destiny Pitts was named to the Big Ten Honor Roll on Monday, and deservedly so. She led the Gophers Sunday with 22 points on 8-of-18 shooting, including 4-of-10 from three-point range.
Over Minnesota's current six-game win streak, Pitts is averaging 20 points per game and shooting 41 percent from three-point range. She scored 23 of her game-high 27 points in a 65-45 win at Purdue last Thursday. For the season, Pitts ranks fourth in the Big Ten in made three-pointers and three-point percentage.
The Gophers shot nearly 55 percent from the field in Sunday's win, which was also their highest scoring output of the season. They were also 9-of-18 from three-point range.
But Minnesota probably didn't feel comfortable about its chances in the game and the rest of the season until Bell was back on the floor and healthy again.
"One of the greatest of all time, like Michael Jordan, played with the flu and didn't show it. So you've just got to fight through the pain and fight through adversity," Bell said.
The Gophers (19-1, 8-7) have three games left until the Big Ten Tournament, and it's as tough a stretch as any team in the league will have. They're at No. 8-ranked Maryland on Thursday, at Rutgers and home against Michigan State for Senior Night on March 3. Maryland and Rutgers are battling with Iowa for the Big Ten regular season title.
Minnesota hasn't faced Maryland yet this year, but the Gophers will face an angry Rutgers squad after they beat the Scarlet Knights 60-46. Minnesota will be looking for its own revenge against the Spartans after an 86-68 loss in East Lansing earlier this year.
"We've gotten this far by doing it together, by working hard and doing all the extra stuff. All the teams are playing hard and with a sense of desperation to head into the tournament with as high a seed as possible. No matter who you're playing it's going to be a tough night," Whalen said.