Gophers finish 2022 season 9-4 after 28-20 win over Syracuse at Pinstripe Bowl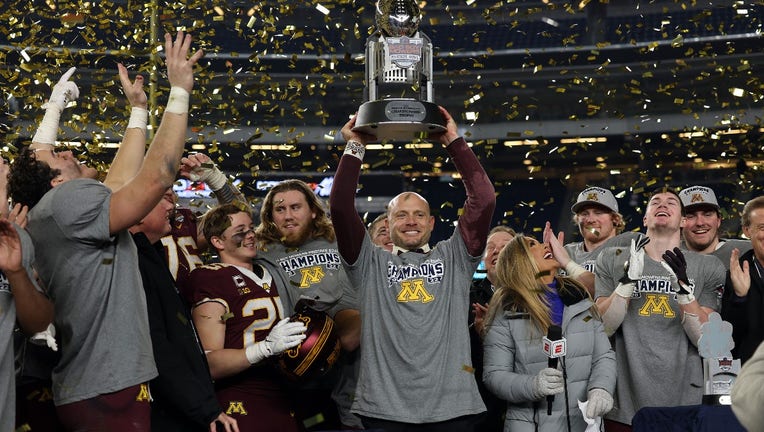 article
MINNEAPOLIS - Mo Ibrahim made history in multiple ways in the first half, Tanner Morgan got one final chance to wear a Gophers' jersey and a true freshman stepped up with a game-changing defensive play in the third quarter Thursday as the University of Minnesota football team ended the 2022 season with a 28-20 win over Syracuse in the Bad Boy Mowers Pinstripe Bowl at Yankee Stadium.
Ibrahim, a sixth-year Gophers senior, had 16 carries for 71 yards in the first half. He broke David Cobb's single-season rushing record, Darrell Thompson's all-time rushing record and the program's single-season rushing touchdown mark all in the first half. 
Ibrahim finished with 1,665 yards on the season, passing Cobb's 1,626. Until Thursday, Thompson was the Gophers' all-time leading rusher with 4,654 yards, set in 1989. Ibrahim finished at 4,668.
"He's the ultimate over-achiever, period," Gophers coach PJ Fleck said after the win. "There's nothing you can tell him that he can't do, and it goes back to his recruiting process. I bet you, you know, there's a lot of people who would like Mohamed Ibrahim on their team, and there's going to be a lot of NFL teams that like him on their team."
His second quarter touchdown was his 20th of the season, passing Gary Russell's 19 in 2005. If that's not enough, Ibrahim also broke Cobb's record of 314 carries in 2014. With 16 carries in the first half, he finished with 320 on the season.
Ibrahim leaves the Gophers as the all-time leading rusher, despite tearing his Achilles in the first game of the 2021 season. He leaned on the people closest to him in his decision to return to Minnesota this season. 
"I made the right decision. When I made the decision, just understanding that I could become a better football player after this injury and just taking it one day at a time," Ibrahim said. "Don't rush it, don't look at the finish line, I finally made it to the finish line today. That was my mindset throughout this whole season, just take it one game, one day at a time."
Athan Kaliakmanis started at quarterback and was 7-of-9 for 80 yards before having to leave the game with a lower right leg injury, suffered in the second quarter. He had to be helped to the locker room by two teammates. Morgan entered in his absence for the first time since the first half against Nebraska on Nov. 5, and hit Daniel Jackson for a 20-yard touchdown to give the Gophers a 14-0 lead.
Syracuse answered, scoring a touchdown with eight seconds left in the first half on a Garrett Shrader 1-yard run.
Big plays propelled the Gophers in the second half to the victory. True freshman Coleman Bryson, in his first career start, intercepted Shrader in the third quarter and took it 70 yards for a touchdown, and a 21-10 Gophers' lead. The play got Bryson the Pinstripe Bowl game MVP honors after.
After Quentin Redding returned a kickoff 72 yards, Morgan hit Jackson for a 25-yard touchdown on a tunnel screen and a 28-13 Gophers' lead late in the third quarter. Morgan, in his final game with the Gophers, finished 4-of-7 for 58 yards and two scores. Jackson finished with four catches for 73 yards and two touchdowns. The program's all-time winningest quarterback went out with a win.
"I'm just thankful that I got to that point and thankful that I got to step on the field again and wear the maroon and gold for one last time. I'm proud to be an alum now," Morgan said. "It's been an honor to wear that jersey and to rent the No. 2 for the last six years. Can't wait to watch who wears it next."
Syracuse tried to make it interesting late as Shrader's second touchdown of the day, on an 8-yard scramble with 2:30 to play, cut the Gophers lead to 28-20. Brevyn Spann-Ford recovered the ensuing onside kick, and the Gophers ran out the clock after Syracuse was flagged for an unsportsmanlike conduct penalty that gave Minnesota a first down.
With records set, Ibrahim did not play in the second half. He came back on the field for the final play of regulation with Morgan, as the Gophers were in victory formation. Kaliakmanis spent the second half watching from the sideline in a walking boot, and the Gophers lost linebacker Cody Lindenberg in the second half to an ankle injury. Fleck was confident after the game none of the injuries was serious.
With winning the Pinstripe Bowl, the Gophers improve to 4-0 in bowl games under PJ Fleck. Minnesota finishes the season 9-4, and wins at least nine games for the third time in the last four seasons. That hasn't happened since a stretch from 1900-1905.
"I can't tell you how grateful I am to be their coach. It's humbling every day, and that's why I love being at Minnesota. The people who are in charge of me allow me to be able to pick the people that fit us," Fleck said. "Pick the right people, you can do some really special things."