Gophers ranked in NCAA basketball Top 25 for first time since 2013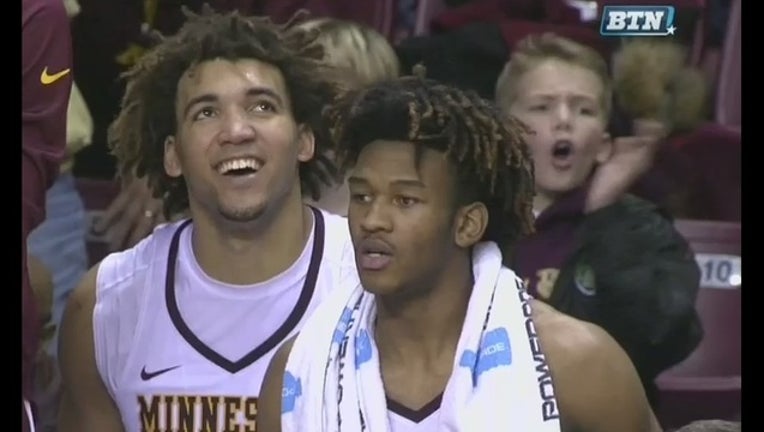 article
MINNEAPOLIS (KMSP) - The Gophers men's basketball team broke into the Top 25 this following their third straight win in Big Ten play, entering the Associated Press poll at No. 24. This is the first time Minnesota has been ranked since 2012-13, when the Gophers spent 11 weeks in the poll, peaking at No. 9.
The Gophers defeated Ohio State 78-68 at Williams Arena on Sunday. Freshman Amir Coffey led the way with 19 points and a pair of highlight reel dunks. Coffey was named Big Ten freshman of the week for the second time this season.
The Gophers are No. 1 in the Big Ten with an overall record of 15-2 and a 3-1 record in conference play.
Baylor is No. 1 in The Associated Press men's basketball poll for the first time. Baylor was unranked to open the season, but is now 15-0. Minnesota is one of 3 Big Ten teams in the Top 25 this week, with Purdue and Wisconsin ranked No. 17 and No. 18.
The national rankings now also feature a father-son duo, with Gophers head coach Richard Pitino and Louisville coach Rick Pitino.
Associated Press Top 25 rankings – Week 10
1. Baylor
2. Kanas
3. Villanova
4. UCLA
5. Gonzaga
6. Kentucky
7. Duke
8. Creighton
9. Florida State
10. West Virginia
11. North Carolina
12. Butler
13. Oregon
14. Louisville
15. Xavier
16. Arizona
17. Purdue
18. Wisconsin
19. Virginia
20. Notre Dame
21. Saint Mary's
22. Cincinnati
23. Florida
24. Minnesota
25. Southern California