Gophers pull away to beat Illinois, 86-75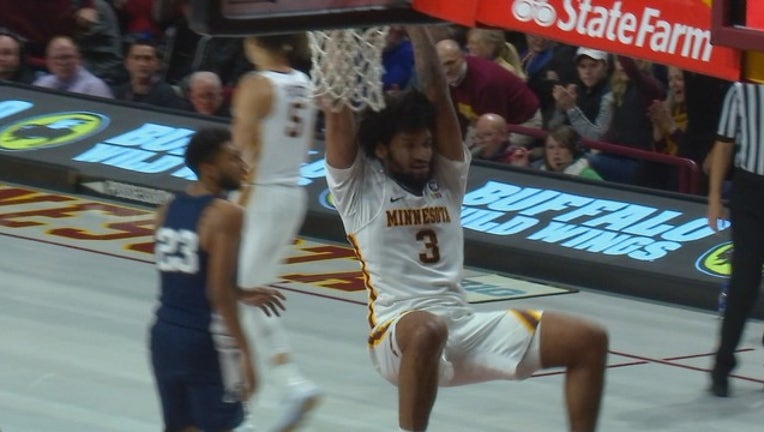 MINNEAPOLIS (FOX 9) - Gabe Kalscheur is all business when he steps on the basketball court, whether it's in practice or in a Big Ten game at Williams Arena.
Kalscheur sparked a second half run with his perimeter shooting and was one of five Minnesota players in double figures Wednesday night in an 86-75 win over Illinois. The Gophers avenged an ugly 95-68 loss at Illinois two weeks ago, and finished the first half of the Big Ten season 6-4.
Down 43-39 early in the second half, Kalscheur hit a three-pointer to get the Gophers within one. Isaiah Washington and Kalscheur then hit consecutive perimeter shots to give Minnesota a 48-47 lead.
Amir Coffey drove the lane and scored to give the Gophers a 55-48 lead, capping a 13-1 run for a lead they would keep the rest of the game.
The Gophers (16-5, 6-4) shot 50 percent from the field in the second half, including 40 percent from three-point range, despite subzero conditions outside.
"I just want to say thank you to our fans. There's not too many fan bases in the country that would show up in this weather. That's why this place is so special," Gophers coach Richard Pitino told Big Ten Network after the game.
The Gophers improved to 11-1 at Williams Arena this season. They trailed 39-37 at the half and out-scored Illinois 49-36 over the final 20 minutes. Amir Coffey led Minnesota with 18 points and six assists. Jordan Murphy added 16 points and 10 rebounds. Isaiah Washington provided a spark off the bench with 12 points and four assists.
"Isaiah Washington was terrific off the bench. He showed you what he can do," Pitino said.
After missing the win over Iowa with a shoulder injury, Daniel Oturu played 18 minutes and finished with 11 points and eight rebounds. Kalscheur finished with 14 points, shooting 3-of-5 from three-point range.
The Gophers led by as many as 17 points in the second half and out-rebounded Illinois 35-30 in the win. Trailing by five, they went on a 22-8 run to pull away from the Illini. Minnesota also shot 20-of-26 at the free-throw line.
Trent Frazier led Illinois with 30 points on 10-of-14 shooting. The rest of the team shot 16-of-44 (36 percent) from the field, including 2-of-13 from three-point range. Ayo Dosunmo torched the Gophers in Illinois with 23 points on 9-of-13 shooting. Wednesday night, he scored six points and was 0-of-3 from three-point range.
Minnesota now hits the road for three of its next four games, starting at Illinois Sunday.