Heartbreak in Madison: Gophers lose to Badgers in OT, 20-17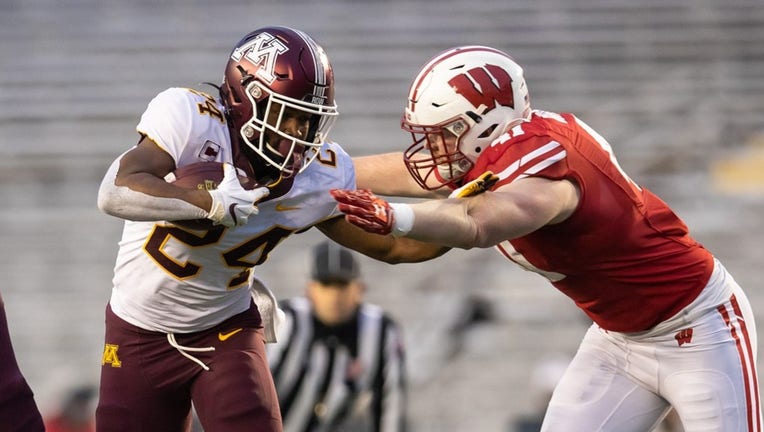 article
MINNEAPOLIS - For the 16th time in 17 years, Paul Bunyan's Axe is staying in Madison.
The University of Minnesota football team took Wisconsin to overtime on Saturday at Camp Randall Stadium, but Anders Gelecinskyj's field goal from 36 yards out missed wide left. Collin Larsh didn't leave any doubt, drilling a 30-yard field goal to give the Badgers a 20-17 win over the Gophers.
Minnesota got its rematch with its biggest rival after the Nov. 28 match-up was canceled for COVID-19 reasons on the Gophers' side. At the time, Minnesota had 23 players and 26 staff who were positive. The Gophers also canceled their last home game against Northwestern, and went to Nebraska without 33 players between injuries and COVID-19 and earned a 24-17 victory.
The Gophers had their chances Saturday, but they're returning home with a 3-4 record, and not with the Axe.
"Obviously a devastated locker room, very disappointed, sad. But not pouty, just sad that they didn't win," Gophers coach P.J. Fleck said. "After a hard-fought rivalry loss like that, when you walk into that locker room, people care and this one means a lot. I think everybody knows that."
Minnesota went 0-3 in rivalry games this year. They lost the Little Brown Jug to open the season, couldn't keep Floyd of Rosedale in Minneapolis and didn't take Paul Bunyan's Axe home. Fleck has yet to beat the Hawkeyes, and has just the 2018 win over the Badgers.
"It definitely hurts. Being from Minnesota and knowing how much this game means to me and to my teammates, it hurts. It hurts a lot," said rush end Boye Mafe, who finished with seven tackles.
The Gophers got to overtime after Tanner Morgan hit Michael Brown-Stephen's for a 9-yard touchdown with 4:40 left in regulation to tie the game 17-17. Coney Durr then ended a potential game-winning scoring drive for the Badgers with an interception in the end zone.
Morgan had Bryce Witham open in overtime on a play that would've been a first down and could've gone for a touchdown, but the pass was underthrown and nearly intercepted. Gelecinskyj then missed from 36 yards out, setting up Wisconsin's winning kick. Gelecinskyj earlier made a kick from 38 yards out that gave the Gophers a 10-7 lead in the third quarter, and he had taken over kicking duties with Michael Lantz out for the season and Brock Walker unavailable.
"Anders is our third string kicker, came in and has been unbelievable. He missed one," Fleck said.
There were positives to take away for the Gophers despite Saturday's loss. Brown-Stephens caught his first career touchdown. Morgan hit Cam Wiley on wheel route for the game's first score. Mo Ibrahim ran for 154 yards and averaged 5.8 yards per carry against the top rushing defense in the nation. He finished the season with 1,100 rushing yards, 15 touchdowns and was named the Big Ten Running Back of the Year. He also set a school record with eight straight 100-yard rushing games. Minnesota's defense limited Graham Mertz to 12-of-20 passing for 132 yards before he left due to injury.
There was also adversity. Chris Autman-Bell left the game after the kickoff to open the third quarter with an injury and didn't return. Garrett Groshek ran for 154 yards against the Gophers, including going untouched up the middle 39 yards for a touchdown that tied the game 7-7. Ibrahim also had a touchdown called back on a holding penalty, and on the next play, Morgan was intercepted in the end zone to kill a drive without points.
The Gophers finished with 326 yards against a Wisconsin defense that allowed just 251 per game for the season. But they didn't make the key plays in the big moments, and go home disappointed with another loss to a rival.
"Obviously we're heartbroken. This game means a lot to us, winning the Axe means a lot to us, and we're not pouting. We're just going to keep our oars in the water and keep rowing no matter what happens," Morgan said.
So what's next for the Gophers? Seniors on the team and a few NFL hopefuls have to decide if they want to return next season. Due to the COVID-19 pandemic, this season is free in terms of eligibility. For those moving on, Saturday might have been their last game in a Minnesota jersey. Fleck said he's had talks with all of his upper classmen throughout the season, and expects a majority of players back for 2021.
What about a bowl game? Despite finishing with a 3-4 record, many projections have the Gophers getting invited to a bowl. But will they accept it?
"That's the million dollar question right now," Fleck said.
The Gophers played seven games this season, having two canceled due to COVID-19 issues. Many players haven't been home since June, and some have had family hospitalized due to COVID-19. If they do take a bowl invite, it will be an entirely different experience. No team outings, no team Christmas. Meals in hotel rooms, virtual meetings, sleep in your hotel room, play the game and come home.
Fleck, his team and Minnesota's administration has to weight if that's worth playing one more game, or giving the players a mental break.
"I think that's something that's a team decision. I think every football player wants to play, everybody wants to compete. Everybody wants to go to a bowl game, everybody wants to do that. I think you've got to look at a lot of different factors," Fleck said. "Our whole state is shut down. Let's say your children is away at school, everything is shut down, can't go anywhere and the thought of your son, Christmas morning having a boxed lunch sitting in their room because they can't go anywhere. That's Christmas? You can't have gatherings, you can't have this big team dinner, you can't have this big team Christmas, this big holiday, whatever you celebrate. School is done, nothing to do, nowhere to go. Think about if that's your son, if that's what's best for your family. I'm not here to make that decision. This is about the kids, this is all about the players. We want to play football, we want to play in a bowl game, but there's a lot of other factors that come into play here."
The Gophers will find out Sunday if they get the chance to make that decision.