Gophers control NCAA fate with 3 games left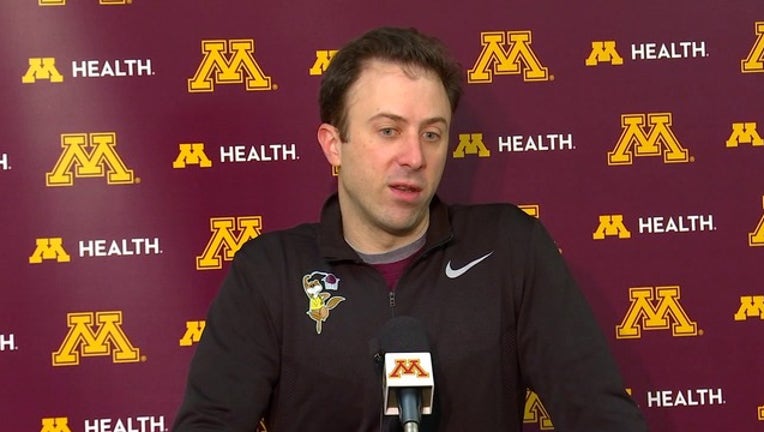 MINNEAPOLIS (FOX 9) - Richard Pitino and the Gophers basketball team aren't wrong when they say everything is in front of them.
But at some point, they have to play with the sense of urgency that their season is on the line. At least, if the Gophers want their name called on Selection Sunday, it is. Minnesota's hopes of playing in the NCAA Tournament dwindled a little more after Sunday's 68-64 loss at Rutgers.
The Gophers led 59-55 with 3:24 left. The Scarlet Knights out-scored Minnesota 13-5 the rest of the game to pull out their second victory in their last seven games. Geo Baker's step-back 3-pointer gave Rutgers the lead with 57 seconds left, and it was ultimately the dagger.
It was the Gophers' sixth loss in seven games, and sixth straight road loss. They're running out of opportunities to solidify an at-large berth for the NCAA field of 68.
"You go at Rutgers and you could tell Rutgers was just playing to play and the fans are just there to cheer. I didn't sense in any way that our guys were pressing versus Rutgers, I didn't feel that," Pitino said. "But as the countdown begins, the pressure will mount."
Jordan Murphy and Dupree McBrayer are Minnesota's senior leaders. McBrayer found himself having to pick up his teammate after Murphy was fouled on the perimeter with the Gophers down 67-64 with five seconds left. He made just 1-of-3 from the free-throw line, including an air ball on the first shot.
The Gophers shot just 10-of-20 from the charity stripe in the loss.
"That's one of my brothers so after the game and even when we got back I told him, 'Bro don't worry about it, you're going to bounce back.' He responded yesterday in practice making free throws and he stayed late after practice," McBrayer said.
The reality is the Gophers (17-11, 7-10) have to move on, they have no other choice. They head to Northwestern Thursday night, and the Wildcats are in the middle of their own eight-game losing streak. Barring a Big Ten Tournament title run, they're not in the NCAA Tournament picture.
Minnesota still very much is with three games to play, despite losing six of their last seven. Jerry Palm of CBS Sports Bracketology still has the Gophers firmly in the Big Dance, a No. 10 seed facing Buffalo in the first round. NCAA expert Andy Katz has Minnesota as a No. 11 seed, facing Virginia Tech in the first round.
Only ESPN's Joe Lunardi currently has Minnesota as on the outside looking in, as among the "first four out."
If the Gophers want to change that narrative and feel good about their NCAA chances again, it starts with beating Northwestern Thursday night.
The Gophers have only two of those "great opportunities" left after Thursday. They host Purdue next Tuesday on Senior Night for Murphy, McBrayer, Matz Stockman, Brock Stull and Jarvis Johnson. The regular season ends March 8 at Maryland, and then it's off to the Big Ten Tournament for the Gophers, where anything can happen.
"We're just trying to take it one game at a time. We gotta go to Northwestern and it's got to be Minnesota versus Northwestern. We've got to get that job done before we can move onto the next game," freshman center Daniel Oturu said.
Oturu and fellow freshman Gabe Kalscheur have been two of the biggest bright spots for the Gophers this season. Oturu was named the Big Ten Freshman of the Week this week and is Minnesota's second-leading scorer (11.7) and rebounder (7.3). Kalscheur had his biggest scoring game of the Big Ten season on Sunday with 21 points at Rutgers, which included shooting a perfect 6-of-6 from the perimeter.
Kalscheur has scored in double figures in six of Minnesota's last 10 games.
"I think Daniel and Gabe have had terrific years. To me, Gabe has had as good of a year as any freshman in this league," Pitino said.
If the Gophers have NCAA Tournament aspirations, they'll need junior Amir Coffey to be a more consistent threat offensively. Since scoring 22 points at Purdue, Coffey has been under double figures in four of Minnesota's last six games. In Minnesota's losses at Rutgers and to Michigan, Coffey shot a combined 6-of-27 (22 percent). That includes a combined 0-of-8 from three-point range. Coffey was 0-of-10 in the first half in the loss to Michigan.
Despite the struggles and losing six of their past seven, the Gophers still control their postseason fate. Find a way to win two of their three remaining regular season games, and they're likely in the Big Dance regardless of what happens at the Big Ten Tournament.
"We know we've got really good opportunities in front of us, and the focus just has to be on Northwestern," Pitino said.