Cold shooting plagues Gophers in first home loss to Maryland, 63-49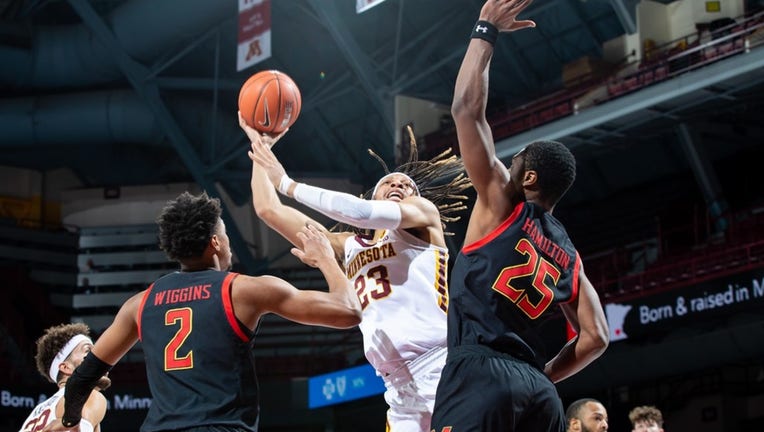 MINNEAPOLIS - Having a week off before beating No. 7-ranked Michigan was the best thing that could've happened to the University of Minnesota men's basketball team. One week later, the script flipped and the No. 17-ranked Gophers were stagnant, flat and lacked energy in a 63-49 loss to Maryland at Williams Arena.
It's Minnesota's first home loss of the season, and it snaps a 12-game win streak at The Barn dating back to last season. It can largely be attributed to an ice cold shooting performance. The Gophers made just 14 shots on the day, shot 30 percent from the field and just 5-of-23 (21.7 percent) from the perimeter.
They also struggled at the free-throw line, going just 16-of-25. The Gophers have averaged 84.5 points per game in 11 home wins this season. Saturday's 49 were a season-low, and fewest since a 62-49 loss to Wisconsin in March of 2016.
"We just couldn't make a shot. Give Maryland credit, they were ready to go. We had five guys that were 6-for-32 from the field so if you're going to have that, you better be phenomenal defensively. We were good in the second half, but you better be great if you're going to shoot those type of numbers," Gophers coach Richard Pitino said after the loss.
Minnesota's offensive numbers were glaring. Marcus Carr led the Gophers with 25 points, shooting 8-of-14 from the field. The rest of the team? A combined 6-of-32 from the field, and 2-of-17 from three-point range.
Gabe Kalscheur, Both Gach, Tre Williams, Eric Curry and Isaiah Ihnen went a combined 0-for-15 in the game. Gach and Kalscheur, who need to be scorers behind Carr, each had a single point from the free-throw line.
The Terrapins raced out to a 17-3 lead early, and never looked back.
"That's probably the slowest we ever came out to a game. We just made the mistake of thinking everything was just going to come easy. In this conference, every game is going to be a challenge regardless of who we're playing on any given night," forward Brandon Johnson said.
The Gophers rallied to get as close as 20-17 in the first half before trailing 36-27 at the break. They trailed by as many as 14 in the second half, and went nearly seven minutes without a field goal. They got within six on a few possessions before Maryland pulled away.
To make matters more complicated, Liam Robbins committed three fouls in the first two minutes of the second half, having to sit on the bench with four fouls until less than eight minutes remained. After getting 22 points, eight rebounds and two blocks against Michigan, Robbins had just six points and two rebounds Saturday before fouling out with 4:47 to play.
The Gophers had eight assists on 14 made shots, committed 12 turnovers and were out-rebounded 38-30.
"We settled for too many jump shots. We've just got to do a better job of attacking and getting downhill. That's when we're at our best," Jamal Mashburn Jr. said.
Mashburn finished with nine points. Maryland was led by Eric Ayala's 21 points. Donta Scott added 15 points and 11 rebounds, and Aaron Wiggins had eight points and 10 rebounds. The Terrapins beat a ranked opponent on the road for the third time this season, a program record. They've also won at Wisconsin and Illinois.
Pitino after wouldn't blame the loss on having a week between games, with Wednesday's game at Nebraska postponed due to COVID-19 issues with the Cornhuskers. The Gophers dropped to 4-5 in Big Ten play and have another break coming, with until week until they play at Purdue next Saturday.
There's plenty to fix after Saturday's clunker.