Gophers lose Big Ten opener at No. 13 Illinois, 92-65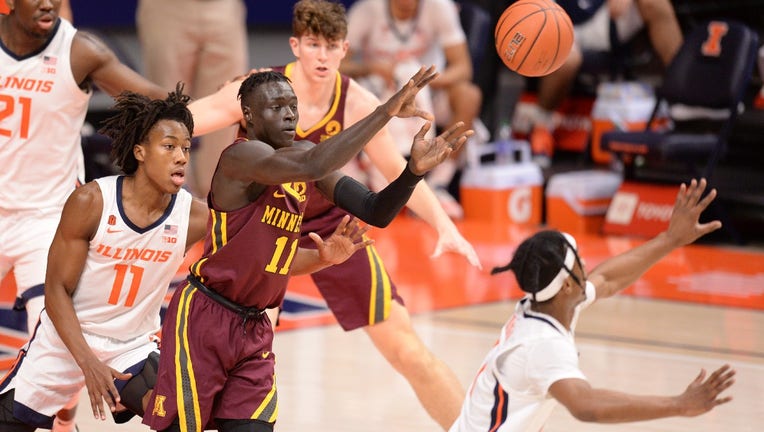 MINNEAPOLIS - There's not really any way around it. The University of Minnesota men's basketball team was manhandled Tuesday night in a 92-65 loss at No. 13-ranked Illinois to open the Big Ten season.
The Gophers opened the season with six straight games in front of no fans at Williams Arena. They won all six, but got an early taste of the rigors of the Big Ten season Tuesday night. Minnesota shot just 28 percent from the field, 7-of-28 from three-point range and had no answer for Illinois star center Kofi Cockburn, who finished with 33 points on 12-of-15 shooting, and grabbing 13 rebounds.
It was Minnesota's first time traveling in the COVID-19 pandemic, and it was the team's first loss of the season.
"Stay positive, stay connected. All of us gotta do better. Our little Tier 1 group of 25 or whatever, and that's everybody, coaches included. We've got to do better. Put in the work, that's what unites a team and we'll do that," coach Richard Pitino said after the loss.
The positive? It's only one loss. The negative? The Gophers' next opponent, St. Louis, is a fringe top-25 team and favored to win the Atlantic 10. They then host No. 3-ranked Iowa on Christmas Day, and seven of their eight games to star the Big Ten are against top-25 teams.
"We play in the best league in college basketball, so night and night out we're going to have tough opponents. We're going to prepare like we always do and be up for the challenge," said point guard Marcus Carr, who led the Gophers with 16 points, but shot just 3-of-13 from the field.
The Gophers got off to a hot start, leading 15-8 early and as much as 18-10 after Liam Robbins hit a pair of 3-pointers. Robbins got into early foul trouble, as he has in several games this season, and had to go to the bench 3:30 into the game.
That's when everything changed for Illinois, and Cockburn took over. Illinois went on a 14-0 run to take the lead. That run turned into 22-3 and 30-11 to end the half as the Illini led 40-29. Cockburn scored 16 points in the first half. Robbins sat on the bench, while the Gophers had no answers defensively.
"We needed him on the court. Kofi does that to you, he puts you in foul trouble and then you have to sub. It's just hard," Pitino said. "He's never gone against a guy like Kofi in his life. Not many have. He's transferring up from the Missouri Valley, I don't think they have guys his size at that level, we don't have many guys that size at our level. I think a lot of the credit belongs to Kofi."
Robbins finished with 10 points and two rebounds before fouling out for the second time this season, with 4:10 to play.
After making their first three shots from the perimeter, the Gophers went just 5-for-27 the rest of the first half and made only 19 field goals for the game. They also shot just 20-of-32 from the free-throw line, and got out-rebounded 53-35.
Both Gach, Gabe Kalscheur, Isaiah Ihnen and Brandon Johnson combined to shoot 5-for-32 from the field and 1-for-11 from the perimeter. Kalscheur is now 5-for-29 from the perimeter through seven games. Gach, who had scored in double figures in all six games before Tuesday, shot 0-for-9 from the field and scored his only point from the free-throw line.
"We weren't hitting shots, which is tough on the road. That's going to happen, but our offense was just stagnant," Kalscheur said.
It's only one loss, but Pitino is now 48-83 in the Big Ten for his career and the schedule doesn't get easier any time soon.
"We've got to be sharper, we've got to continue to get better. It's only worth one," Pitino said.