Gophers football season opener: FOX 9 pregame show at 5:30 p.m.
MINNEAPOLIS (FOX 9) - The University of Minnesota football team opens the 2022 regular season Thursday night against New Mexico State.
Gopher Pregame Show on FOX 9
Tune into FOX 9 at 5:30 p.m. and fox9.com/live (and in the player above) for the Gophers Pregame Show with Pierre Noujaim, Gophers' analyst Ron Johnson and KFAN sideline reporter Justin Gaard live outside Huntington Bank Stadium. 
Pregame coverage continues on fox9.com/live and YouTube.com/fox9 (and in the player above) from 6-7 p.m with Noujaim, Johnson and FOX 9's Jeff Wald, and live report from the tailgate lots with FOX 9 anchor Amy Hockert.
How to watch Minnesota vs New Mexico State: TV and streaming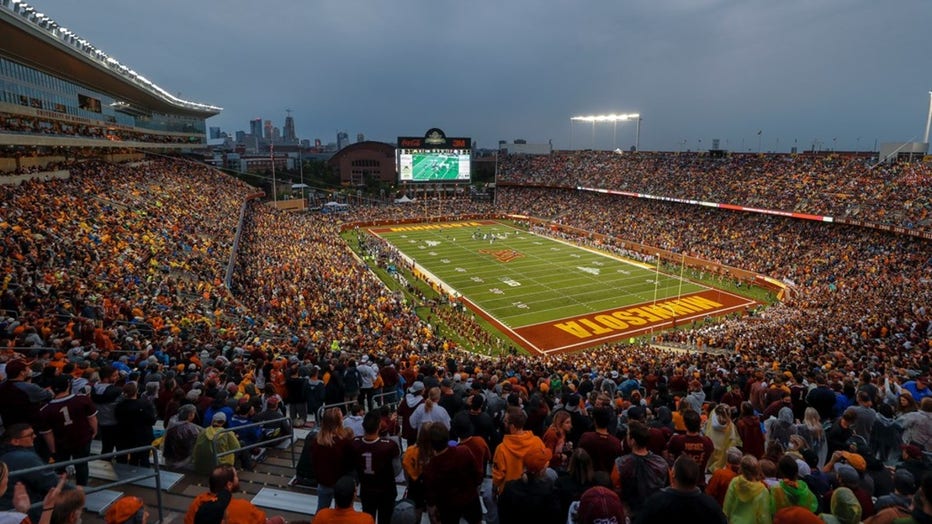 The University of Minnesota football team opened the 2021 season with a 45-31 loss to Ohio State Thursday night at Huntington Bank Stadium. ((credit: University of Minnesota Athletics))
You can watch the game at 8 p.m. on Big Ten Network and streaming on the FOX Sports App.
Jerry Kill returns to Minnesota
The hope is the only interesting parts of the game are the pre and postgame interactions between former Minnesota coach Jerry Kill, and current coach PJ Fleck. Kill was hired in December of 2010 to replace Tim Brewster, and had to step down as Gophers' coach seven games into the 2015 seasons due to health issues related to epilepsy.
Tracy Claeys was the interim coach, and was fired after the Gophers went 9-4 in 2016 and won the Holiday Bowl. Kill was infuriated by the move, saying in a radio interview he would never step foot on the Minnesota campus again. He's also made negative comments directed at Fleck on multiple occasions, saying "he's about himself and not the players."
What Kill should be more upset about is having to travel with his Aggies' squad for a game on just four days rest, after losing their opener, 23-12, to Utah last Saturday night.
Success under PJ Fleck
Fleck has done things his way at Minnesota, with his "Row the Boat" culture. He's 35-23 in five seasons with the Gophers, 21-22 in Big Ten play and 3-0 in bowl games. The Gophers have won nine games in two of the last three full seasons, something that hasn't happened in the Minnesota program since 1900-1905.
What to expect from Gophers in 2022
The Gophers enter the 2022 season with aspirations to win the Big Ten West, behind veteran offensive leaders in Tanner Morgan, Chris Autman-Bell, Mo Ibrahim and John Michael Schmitz. The defense, which was top-10 in the country last season, is led by Thomas Rush, Trill Carter, Mariano Sori-Marin, Justin Walley, Jordan Howden and Tyler Nubin.