Fleck addresses Gopher football player discipline for Quick Lane Bowl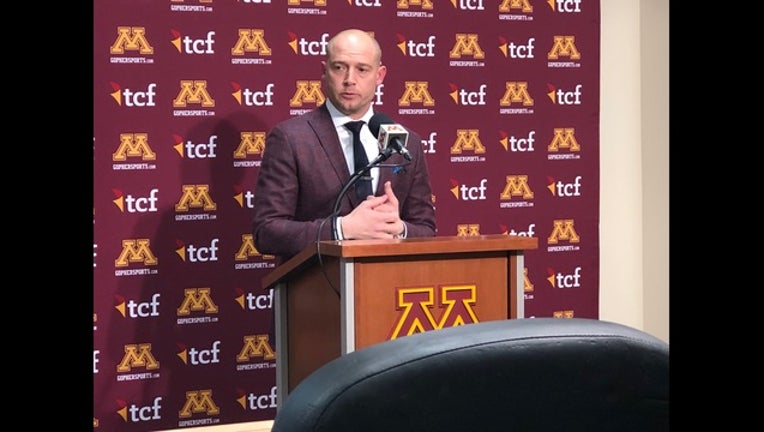 MINNEAPOLIS (FOX 9) - University of Minnesota football coach PJ Fleck said Wednesday at least one starter will not play in the Quick Lane Bowl next week due to a disciplinary issue.
The Gophers were selected to the play in the Quick Lane Bowl at Ford Field in Detroit, Mich., after beating Wisconsin 37-15 in their regular season finale. They finished 6-6 and earned bowl eligibility with the victory.
A Star Tribune report surfaced recently that said six to eight players were missing practice. Fleck said the report was "completely inaccurate."
"There are way more than six to eight players not practicing for a lot of reasons. I allow players to miss practice for finals, for studying for finals. We have concussion protocol. We have injuries being rehabbed inside the training room. We have guys committing to playing in the NFL that are bypassing the bowl game. We've got transfers, and if anybody breaks any team rules, I'm a football coach who's going to discipline people," Fleck said.
When asked further, Fleck said "a player or players" will not play in the Quick Lane Bowl. Fleck said he had to discipline a player earlier this season by not playing in a game due to skipping class.
When asked what the violation was for a player not playing in the bowl game, Fleck said he wouldn't ever get into what the team violations were or what student athletes within the program do. Fleck did say it was dealt with, and that it wasn't a legal issue, domestic issue or anything related to violence.
"We came here to bring a championship culture back to the University of Minnesota. I'm not saying it wasn't here prior to that. I'm just saying that's what I was hired to do, and that's what I know. We want to be able to be that bridge from the past to the present, and now to the future. And we are going to hold people accountable," Fleck said. "I've said it since the day I walked in here. If you do the right things, you're going to be OK. If you don't do the right things, we're going to have a really hard time getting to like each other."
The Gophers face Georgia Tech on Dec. 26 in the Quick Lane Bowl.