Field rush: Gophers hold off Penn State 31-26, improve to 9-0 as fans storm field at TCF Bank Stadium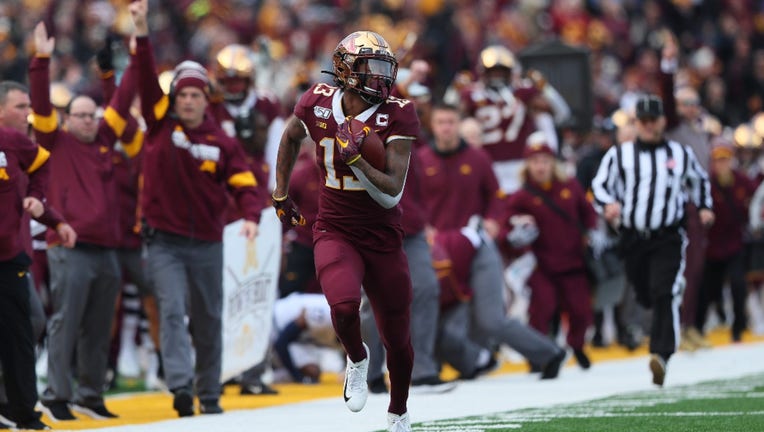 MINNEAPOLIS - PJ Fleck is writing his own history with the University of Minnesota football program, and his current players are doing their best to change the narrative with Gopher football.
Gophers' fans helped them take a giant step forward in that regard Saturday. Tanner Morgan threw for 339 yards and three touchdowns, and Jordan Howden's interception near the goal line with about 1:04 to play sealed the biggest win yet as No. 13-ranked Minnesota held off a late charge from No. 5-ranked Penn State in a 31-26 win in front of a sellout crowd of more than 51,000 at TCF Bank Stadium.
Thousands of those fans stormed the field when it was over to celebrate with the team.
"We're one Minnesota. Our fans were unbelievable today, that's the best college football environment I've ever played in as a head football coach," Fleck said.
Fleck, fresh off crowd-surfing as part of the postgame celebration in the locker room after the win, said he presented the game ball to the state of Minnesota after the win. He gave it to President Joan Gabel, who in turn will give it to Governor Tim Walz.
Senior rush end Carter Coughlin could sense from the moment the Gophers took the field for warm-ups that a big day could be ahead. He finished the day with eight tackles, a sack and three tackles for a loss.
"The second we ran out there and saw everybody, the energy in the stadium, I turned to Kamal (Martin) and I said this is exactly how TCF should be. As a football team, we talk about changing our best. We expect the same thing from the fans so now that's the standard," Coughlin said.
Coincidentally, Martin suited up and participated in pregame warm-ups before it was determined he would sit out. He could have played, but hadn't practiced all week and Fleck didn't want to take the risk three weeks removed from a knee injury at Rutgers.
The Gophers are off to their first 9-0 start since 1904. It's the first time they're off to a 6-0 start in the Big Ten since 1961. It's the first home win over a top-five team since 1977. They've scored at least 28 points in nine straight games for the first time in program history.
In the biggest home game since hosting Michigan in the Metrodome in 2003, the Gophers couldn't have asked for a better start. Antoine Winfield Jr. intercepted Clifford on the opening drive, and the Gophers turned it into a touchdown.
Morgan hit Rashod Bateman for a 66-yard touchdown on perfectly thrown ball in between a defensive back and safety, and Bateman stayed in bounds for the early score and 7-0 lead. It was just the start of a big day for the sophomore. He finished with seven catches for 203 yards.
Bateman is the second receiver in Gopher history to go over 200 yards in a single game. He's averaging 22.3 yards per catch on the season.
"It's special, but I didn't do it alone. I did it with this guy," Bateman said after the game, pointing at Morgan. "I did it with my offensive line, did it with the coaching staff and I did it with the whole Minnesota football team. So I give all the credit to those guys."
The Nittany Lions had a quick answer as Journey Brown raced for a 45-yard touchdown run less than two minutes later.
The Gophers got the lead back in the second quarter on Morgan's tunnel screen to Chris Autman-Bell that went 21 yards for a touchdown.
Winfield Jr.'s second interception of the day and school record seventh of the season set up Minnesota's next score. Morgan got his third touchdown of the day on a 38-yard throw down the sideline, Tyler Johnson made the 1-handed catch and took it in for the score. The Gophers were up 21-10 in the first half.
Penn State entered the game ranked in the top-10 in the country in total defense. They allowed less than 10 points per game, and one passing touchdown all season. Morgan finished 18-of-20 for 339 yards and three scores. He celebrated as much as anybody after the win, with his teammates, fans and the Governor's Victory Bell.
"Just seeing the stadium and how much it meant to the fans was really cool. When they rushed the field, that's a moment I'll never forget. Just really exciting for our fans to be able to experience that with us," Morgan said.
But the win didn't come without tense moments in the second half. Clifford hit Nick Bowers on a 10-yard touchdown to get Penn State within 24-19. The Gophers answered with Seth Green scoring a 1-yard touchdown out of the wildcat formation.
Things got real interesting in the last four minutes. Brown scored his second touchdown of the day to get Penn State within five with 3:49 to play. The Gophers punted on their final possession, and Clifford got the Nittany Lions down to the 10-yard line before a costly penalty for offensive pass interference.
With more than 50,000 nervous Gopher fans waiting for a collapse and painful loss in a huge game, Howden picked off Clifford for the third time in the game. The party was on, the Gophers had won and Gopher fans could exhale.
"I was so proud of him, he was talking about getting an interception all week. I was just really happy for him once he caught it," Winfield said of Howden.
They've made big plays in big moments all season, and they did it again Saturday. They're changing the narrative.
"We've got to let go, I'm sure there were some people on the final drive saying here we go again. Gotta let go of all that. We've got to change at some point, I think this team has proven that as we continue to go into the future, we don't have to keep saying things like that," Fleck said.
On Tuesday, the Gophers signed Fleck to a 7-year contract extension. He'll make $4.6 million a year, and his buyout if another program wants him is $10 million after the 2020 season. That drops to $4.5 after 2021. There's a good chance that will change if the program keeps progressing like it is.
The Gophers put up 460 total yards and 31 points against a top-10 defense. Their defense made the big plays when it mattered most. It made for a historic day at TCF Bank Stadium, one Fleck hopes becomes a regularity in the future.
"That's why you take a job. That was the whole vision, to be able to have that field swarmed on a top five team in the country and to put us undefeated," Fleck said. "Part of the reason why we signed a contract was we want to bring everybody back. We want everybody to be like tonight every single game. We want all of our alums to feel at home here. This is your home. We're one now."