Everson Griffen: 'Last year I wasn't myself'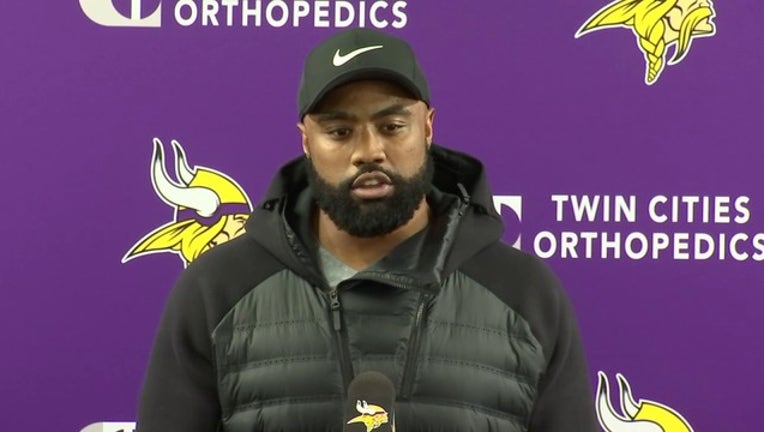 article
EAGAN (FOX 9) - Everson Griffen said it in his own words on Tuesday: "I had a lot going on in my personal life."
Griffen is among several Minnesota Vikings players in town this week going through offseason conditioning. The workouts are not mandatory, as several do their own during the offseason. But for Griffen, it's time he cherishes being around his teammates as they put in work toward a new season.
He was given an opportunity to return to the Vikings after a tumultuous 2018 season, something he wasn't sure was a possibility.
"With me it was bigger than football. I took it upon myself and my family to make the right decision to stay here. I want to be a Viking for life," Griffen said. "It's rewarding because I know the people here love me and have my best interests in mind. I just wanted to come back here and finished what I started. I'm very blessed to be where I'm at right now."
Griffen's 2018 season got off to a slow start by his standards, with just six tackles and two half sacks through the first two weeks of the season.
He then missed six straight games after an incident at a downtown Minneapolis hotel caused him to be hospitalized for a mental health evaluation. It was a situation that had the Vikings concerned for his well-being. A guy that was once a dominant force at defensive end suddenly was vulnerable. He was a danger to his family, and maybe most importantly, himself.
Griffen's troubles started with an explosive incident at the Vikings' team facility where he was yelling and screaming, and he was told by team officials to leave and get his head straight as the Vikings were preparing to play Buffalo. He reported to the facility anyway, and was sent home.
According to a police report, Minneapolis police were called to Hotel Ivy about a disturbance. A man identified as Griffen was threatening to shoot people if he wasn't allowed into his room. He then got into a random person's vehicle and reportedly went to Trae Waynes's home.
Griffen stepped away from football, got help and gave himself a true look in the mirror. He returned to the Vikings to play the last nine games of the season, but wasn't his normal playing self. He made 27 tackles in those final nine games, including five for a loss and 4.5 sacks.
While decent, he knew he could be better.
His status with the team became uncertain after the season until the Vikings brought him back on a new contract last month, worth about $8 million this season. He had been set to make nearly $11 million, but knew he would have to take a pay cut given what had transpired.
"It's a hard pill to swallow for anybody. When I'm me, when I'm myself, I can play well. Last year I wasn't myself. If I was myself, I wouldn't have to take a pay cut. If I was myself, if I was playing at the level I know I can play at each and every year, but I wasn't," Griffen said. "Sometimes things happen in your life where you have to get better with, you have to move forward and you have to learn from. This was a big learning experience, I dealt with some stuff."
He got the recommended treatment, still continues to self-reflect and takes his life day-by-day. He was all smiles and in much better spirits at the team facility on Tuesday, and his teammates have taken notice.
"He's Everson, he's going to light up any room he walks into. Having him in the locker room, doing his thing on the field, you can tell he's enjoying it, being on the field and being with the guys," safety Harrison Smith said. "I'm just really happy that he's back with us."
Danielle Hunter has been a force on the Vikings' defensive line, and has played alongside Griffen as he enters his fifth NFL season. Hunter has noticed a change in Griffen since the offseason started and in his return.
"For him to go through that, that's an incredible thing that he did. He got through all that stuff that he needed to do off the field, on the field, and he came back and told us he did everything from January to coming today...making sure he gets his mind right, gets his family right, gets his football stuff right to make sure nothing like that will ever happens again," Hunter said. "Only a man can do that."
More than anything, Griffen made it clear that he's happy where he's at and wants to be a Viking. What matters to him is that he's happy, his family is happy and his kids are happy. Being back in the Vikings' locker room and participating in workouts has a smile on his face again.
He's back for his 10th season in Minnesota, and he says he has the Vikings' organization to thank for that.
"I felt like they handled the situation that I was in perfectly. They took me underneath their wing, made sure I had everything lined up and it was a good thing. I just wanted to repay that," Griffen said. "It's always bigger than football. It was just an eye-opener."