Cristiano Ronaldo reportedly facing '99 lashes' for hugging an Iranian painter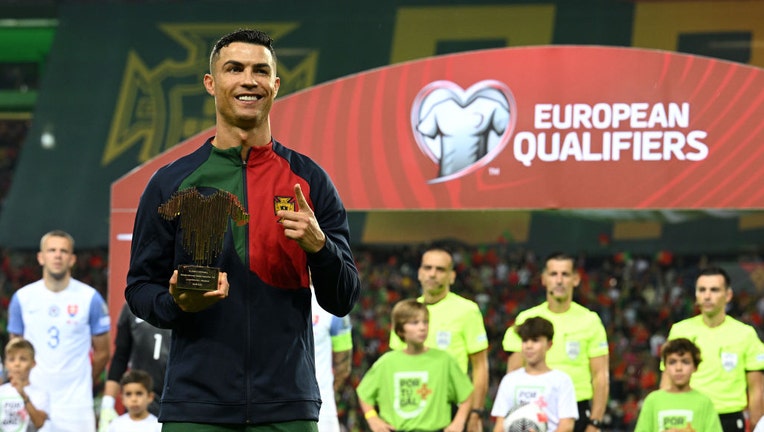 article
Cristiano Ronaldo is facing a harsh punishment for hugging and kissing an Iranian painter. The soccer star reportedly could get 99 lashes for the affectionate gesture, TMZ reported. 
Ronaldo was in Iran with his team to play in Al-Nassr's Asian Champions League game against Persepolis on Sept. 19.
Before the match, fans greeted the star player and gave him gifts.
One of the presents was from painter Fatima Hamimi, who designs art with her feet due to a disability, according to TMZ.
RELATED: Portugal rolls with Cristiano Ronaldo on bench — will he stay there?
Hamimi designed two stunning paintings of Ronaldo, and he showed his gratitude by giving her a kiss on the forehead. 
While the gesture seemed innocent, Iran deems it adultery to touch another woman if you are in a relationship.  TMZ noted that Ronaldo is in a relationship with longtime girlfriend Georgina Rodriguez.
The New York Post reported that several lawsuits were filed against the 38-year-old star after the incident. 
Citing reports in Iran, the New York Post noted that he could be forgiven by a judge if "the acts are not punishable or Ronaldo shows remorse."
This latest controversy comes amid legal trouble Ronaldo is dealing with. 
Last week, lawyers for Ronaldo were back in court on Oct. 4 in a legal battle over hush money he paid in 2010 to a woman who accused him of raping her in Las Vegas.
According to the Associated Press, the woman's lawyers say Ronaldo owes her millions of dollars more than the $370,000 he paid earlier because someone in his camp was responsible for violating the confidentiality agreement.  The soccer star's lawyers maintain the sex was consensual, the agreement stands, and the terms should remain secret.
The Associated Press contributed to this report.  This story was reported from Washington, D.C.