Carson Wentz released by Washington Commanders after 1 season
WASHINGTON - Carson Wentz's time as a Washington Commander is over. 
The team released the veteran quarterback Monday, saying it hoped Wentz would help them make a playoff push last season but after missing more than half the games due to an injury — that didn't pan out. 
Instead, Wentz played in just eight games and the Commanders finished 8-8-1, at the bottom of the NFC East division. 
The 30-year-old threw for 1,755 yards during the 2022 season, 11 passing touchdowns, and nine interceptions. He was sacked on 26 occasions and fumbled the football 3 times.
Wentz was acquired by the franchise through a trade with the Indianapolis Colts last offseason.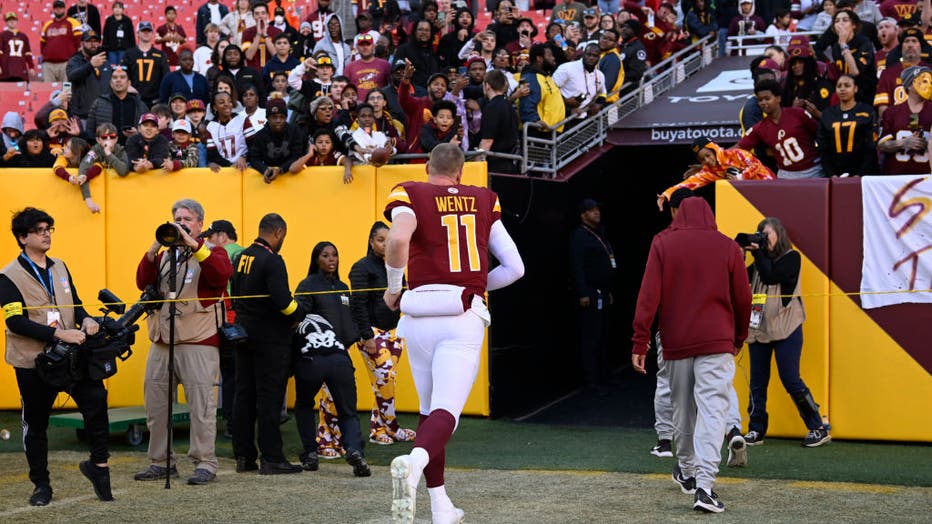 LANDOVER, MD- JANUARY 1: Washington Commanders quarterback Carson Wentz (11) run into the locker room after the Cleveland Browns defeat of the Washington Commanders at FedEX Field on January 1, 2023 in Landover MD. (Photo by John McDonnell/The Washin
He led the team to a 2-4 record in his first six starts with the Commanders, but was placed on Injured Reserve after breaking his finger against the Chicago Bears. 
Taylor Heineicke, a popular player among fans, and Sam Howell are the only quarterbacks left on the roster. 
In addition to releasing Wentz, the Commanders have let go safety Bobby McCain as well. McCain, 29, had four interceptions in 34 games in two seasons with Washington.