Are the Twins in on Harper, Machado?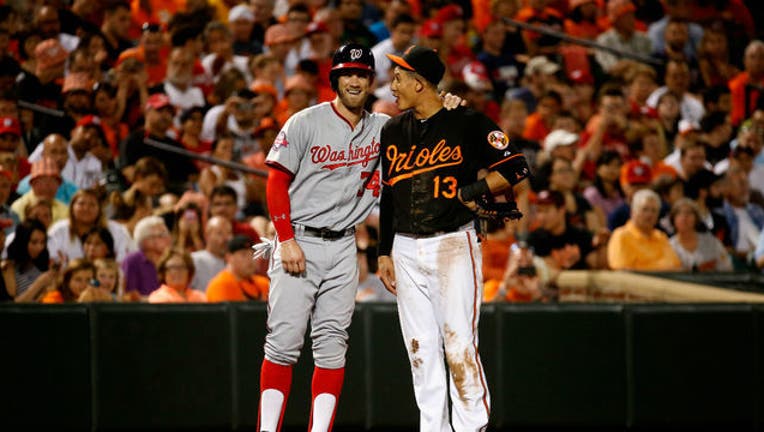 MINNEAPOLIS (FOX 9) - Two of baseball's biggest names are free agents entering the 2019 season. Is there a chance Bryce Harper or Manny Machado could be donning Twins uniforms in April?
Highly unlikely, but at least one ESPN report indicates it's not impossible. Buster Olney, an MLB Insider with ESPN, has reported that the Twins are one of three "mystery teams" that could sign either Harper or Machado.
Harper has been the face of the Washington Nationals since winning the National League Rookie of the Year Award in 2012. He won the National League MVP in 2015, is a six-time All-Star and is coming off hitting 34 home runs, driving in 100 runs and drawing a career-high 130 walks.
Machado was the subject of all kinds of trade rumors last year, with being in the final year of his contract and the Baltimore Orioles failing. He finished the season with the L.A. Dodgers and for the season, hit 34 homers and drove in 107 runs while hitting .297.
Olney recently reported the Twins are among three teams that could sign either Machado or Harper. The others include the Rangers and the Cubs. Other teams pursuing Harper include the Astros, Giants and Braves. Teams pursuing Machado include the Yankees and Padres.
So can the Twins actually land either player? They'll have to pay up to do so, but they have the money to spend after Joe Mauer's retirement. Their currently highest paid player for 2019 is Nelson Cruz at $14 million. The current payroll is at about $87 million, and their payroll last year was around $130 million.
The money is there if they want to pursue the big free agents. Actually spending it for that, something the Twins have never been known for, is an entirely different story.
The Twins are seeking infield stability after trading Brian Dozier and Eduardo Escobar last season. Dozier signed with the Nationals in free agency, and Escobar signed with the Arizona Diamondbacks.
Eddie Rosario, Byron Buxton and Max Kepler are currently the Twins outfield starters. Jake Cave filled in for Buxton, who battled injuries and inconsistent play most of last season. But they'll certainly make whatever adjustments are needed if Harper manages to enter the fold.
It's a fun talker with TwinsFest starting Friday at Target Field.