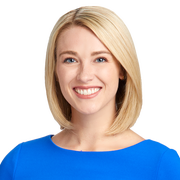 Hannah is a full-fledged Minnesotan! When she's not out covering a story, you'll find her somewhere outdoors hiking, fishing or enjoying time by the water. She loves trying new restaurants, breweries and food trucks and exploring new places. When the cold Minnesota winter hits, she enjoys finding ways to stay active. 
After graduating from Champlin Park High School, Hannah spent two years at the University of Minnesota-Duluth before transferring to the University of Minnesota in the Twin Cities to receive Bachelor's Degree in Journalism.
Before coming to FOX 9, Hannah worked as a reporter and anchor in Madison, Wisconsin. While surviving living among avid Badger and Packer fans (she is an avid Gopher and Vikings fan), Hannah covered politics at the Wisconsin State Capitol, enjoyed covering stories at Wisconsin dairy farms and even survived eating the world's stinkiest cheese, Limburger.
Hannah is enjoying living and working in the Twin Cities where she grew up. She enjoys covering stories that impact the people who live here or stories that teaches people about the interesting and inspiring things people in her community are doing.
Follow along with her on Instagram, Facebook and Twitter! Feel free to reach out to Hannah to give her tips about great hiking spots, delicious new restaurants or stories that you would like to see get covered!
The latest from Hannah Flood