WINNING RECIPE: Rep. Tom Emmer's 'Hotdish of Champions'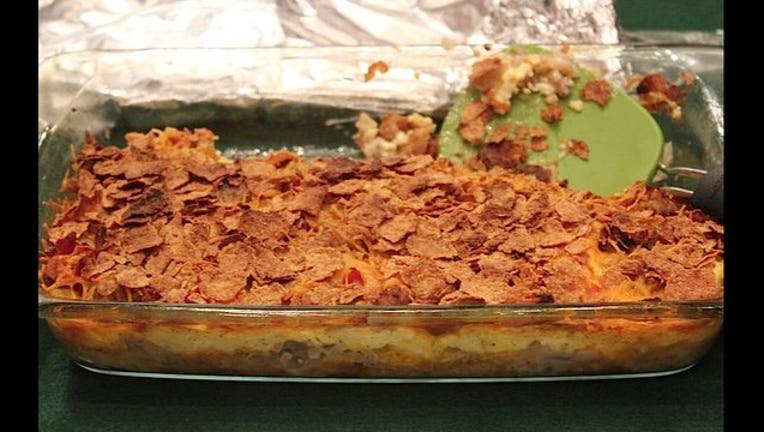 article
(KMSP) - U.S. Rep Tom Emmer took the top prize in this year's Minnesota Congressional Delegation Hotdish Competition with his "Hotdish of Champions"--a winning combination of tater tots, cream of mushroom soup, cheese and meat topped with cereal. 
Sen. Tina Smith hosted the competition, continuing an annual tradition started by her predecessor Al Franken. 
Here is Rep. Emmer's winning recipe: 
Hotdish of Champions 
Ingredients: 
Tater tot crowns –30 oz
Cream of mushroom soup
Vegetable oil –½ tbsp
Eggs –6 
Salt
Pepper
Shredded cheddar cheese –2 cups
Cooked crumbled bacon –¾ cup
Cooked crumbled sausage –1 ½ cup
Your choice of cereal, like General MillsChex or Total (for topping)
Directions:
1. Preheat oven to 425 degrees.
2. Line the bottom of a 12-inch greased cast iron skillet with tater tot crowns and then line the sides of the pan. 
3. Bake for 15 minutes.
4. While baking, heat the oil in a pan over medium heat. Whisk together the eggs and a sprinkle of salt and pepper. Cook the eggs until just set (they will cook more in the oven).
5. Remove the tater tots from the oven and use a spatula to press down on top and sides of the hotdish to smash the tater tots a bit. Pour the can of cream of mushroom over the tots and 3/4 of the sausage.
6. Top with one cup of shredded cheddar cheese.
7. Add the scrambled eggs, sausage crumbles and another cup of shredded cheese, making sure the cheese reaches the tater tots on the sides of the pans.8. Continue adding layers until desired thickness. Sprinkle with the crumbled bacon and bake for an additional 10 minutes.9. Garnish with cereal.