Will TikTok be banned in the US? Here's why and why not
TikTok has quickly become one of the world's most popular apps. Whether you use it to get recipes, need a laugh or are looking to become the next makeup guru, there's no denying the short-form video app is a staple for social media addicts. 
But despite its popularity, TikTok is facing a potential ban in the United States. 
Donald Trump tried to take action when he was president, and more recently, Congress banned TikTok from most U.S. government-issued devices over bipartisan concerns about security. Meanwhile, many states also forbid the app on state-owned phones. 
TikTok is owned by ByteDance, a Chinese company that moved its headquarters to Singapore in 2020. It has been targeted by critics who say the Chinese government could access user data, such as browsing history and location. U.S. armed forces also have prohibited the app on military devices. 
RELATED: Georgia Gov. Brian Kemp bans TikTok on state phones, computers
Fears were further stoked by news reports last year that a China-based team improperly accessed data of U.S. TikTok users, including two journalists, as part of a covert surveillance program to ferret out the source of leaks to the press. 
Fans of the app, however, have continued to fan the flames of TikTok's popularity and use, making it the second most-used platform in the entire world. 
Here's a detailed look at why the U.S. wants to ban the app and a few reasons why banning TikTok probably won't happen.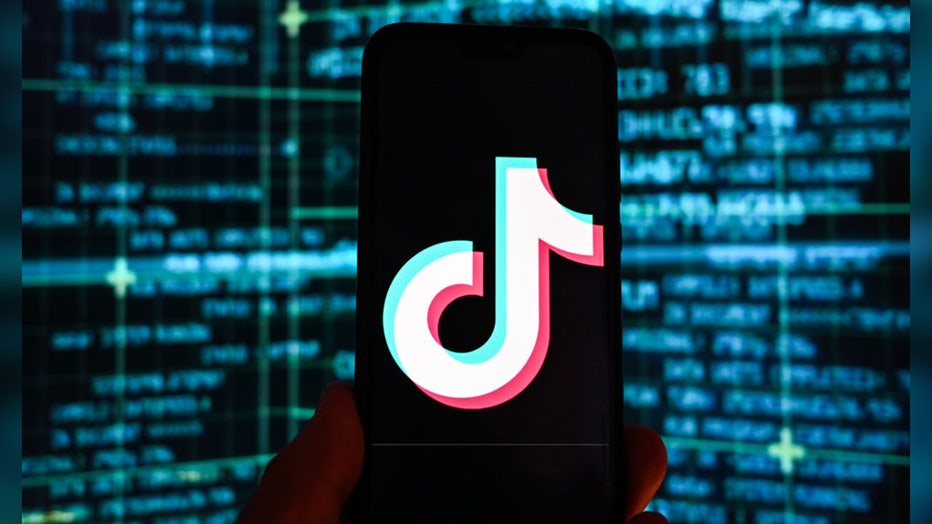 FILE - In this photo illustration a TikTok logo is displayed on a smartphone. (Omar Marques/SOPA Images/LightRocket via Getty Images)
Why TikTok could be banned in the U.S.
Both the FBI and the Federal Communications Commission have warned that TikTok user data could be shared by owner ByteDance Ltd. with China's authoritarian government. U.S. officials also worry that the Chinese government might use TikTok to push pro-China narratives or misinformation. 
There are also concerns that the company is sending masses of user data to China, in breach of stringent European privacy rules. 
Additionally, there's been concern about TikTok's content and whether it harms teenagers' mental health, which has been a similar concern for other popular apps such as Instagram and Snapchat. 
RELATED: TikTok boosts posts about eating disorders, suicide, report says 
In 2020, Trump and his administration sought to ban dealings with TikTok's owner, force it to sell off its U.S. assets and remove it from app stores. Courts blocked Trump's efforts to ban TikTok, and President Joe Biden rescinded Trump's orders after taking office but ordered an in-depth study of the issue. A planned sale of TikTok's U.S. assets was shelved. 
The Senate in December of 2022 approved a version of the TikTok ban authored by conservative Republican Sen. Josh Hawley of Missouri, a vocal critic of big tech companies. 
Democratic U.S. Rep. Raja Krishnamoorthi of Illinois has co-sponsored legislation to prohibit TikTok from operating in the U.S. altogether, and the measure approved by Congress in December had the support of Democratic U.S. House Speaker Nancy Pelosi. 
More recently, TikTok has conceded to U.S. demands and offered to increase its transparency by granting U.S. officials oversight of its algorithms as part of a $1.5 billion reorganization of its U.S. operations, according to a Wall Street Journal report. 
The company announced the creation of a new trust and safety team within its U.S. Data Security operation. TikTok also announced last summer that it was rerouting all U.S. user traffic to the Oracle Cloud Infrastructure, saying it would still use its U.S. and Singapore data centers for backup, "but as we continue our work we expect to delete U.S. users' private data from our own data centers and fully pivot to Oracle cloud servers located in the U.S." 
RELATED: Gov. Hogan orders TikTok ban for Maryland state employees
At least 22 other states, including, Ohio, New Jersey, Mississippi, Louisiana and South Dakota, have instituted bans on the use of TikTok on government devices. 
"We're disappointed that so many states are jumping on the political bandwagon to enact policies that will do nothing to advance cybersecurity in their states and are based on unfounded falsehoods about TikTok," Jamal Brown, a spokesperson for TikTok, said in a statement to the Associated Press. 
RELATED: Alabama university blocks TikTok from campus servers, WiFi. Will others follow suit? 
Why TikTok might not be banned in the U.S.
Hypothetically speaking, if the U.S. federal government decided to ban TikTok from being available on Apple and Google app stores, people would still technically be able to get access to it, just not as easily. 
But again, neither the FCC nor the Pentagon could easily enforce a ban because technically, as many advocates of social media platforms like to point out, TikTok is a platform to practice free speech, i.e., your First Amendment right. 
Also, banning something that's accessible through the internet can prove to be an impossibility considering the world wide web is a lot harder to regulate. So even if you're able to convince everyone TikTok is a threat to national security, you can only delete the app — but you can't delete the internet. 
"Courts do not view this type of legislation kindly, or did not when Trump proposed a similar ban. But that was three years ago and antagonism toward China has only increased in the intervening years," Sarah Kreps, director of Cornell University's Tech Policy Institute, told VOX. 
And to reiterate, TikTok is very popular, in fact, it's the second most-used app in the world right now. So, trying to ban something that everyone loves to hate or hate that they love it, will surely spur some widespread outrage. 
While outrage doesn't seem like a big deal, remember, yes TikTok is mostly used by teens, but that includes 18-year-olds who are old enough to vote. 
And though older generations don't like to admit it, the U.S. population is increasingly made up of mostly Millennials, Gen Z, Gen X and younger, and those generations will only keep growing. 
Millennials, Gen Z and Gen X votes are invaluable to lawmakers and any political figures who are seeking to take office. Any future presidents, senators, representatives or the like who do support a ban on something as popular as TikTok is almost as bad as admitting you hate puppies, and no one wants to be that guy. 
The Associated Press contributed to this report. This story was reported from Los Angeles.