Walz quarantines after staffer tests positive for COVID-19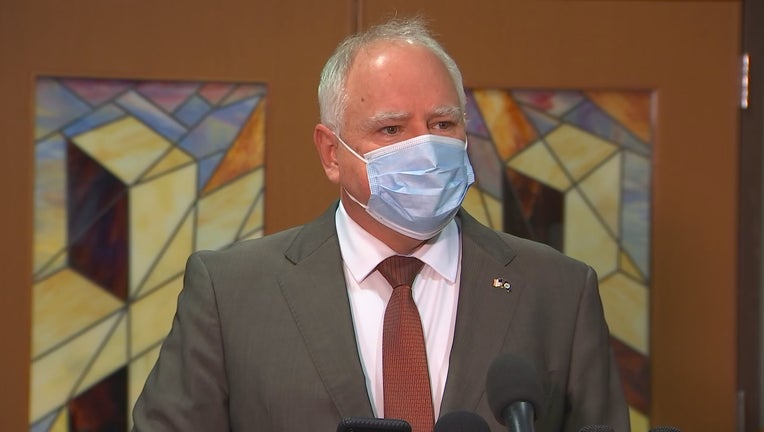 article
ST. PAUL, Minn. (FOX 9) - Minnesota Gov. Tim Walz is quarantining after a member of his staff tested positive for COVID-19, a scenario made possible because Walz has not been vaccinated.
The governor was a no-show Wednesday morning for a scheduled tour of a new mass vaccination site in St. Cloud. For more than two hours, his aides did not respond to text messages and phone calls about the governor's whereabouts. No one on site would explain Walz's absence.
In an emailed statement, Walz's spokesman revealed the staffer's positive test and said Walz, Lt. Gov. Peggy Flanagan and Health Commissioner Jan Malcolm were quarantining until March 25. That is forcing Walz to delay his State of the State speech, which had been set for Sunday.
Walz later posted a video on Facebook to say he's working from the governor's mansion in St. Paul.
"We do this to make sure we not only protect ourselves and our families, but to protect everyone else. This is how you beat COVID," Walz said.
The possible exposure happened at a Monday morning news conference at the Mall of America's mass vaccination site.
Walz, Flanagan and Malcolm were in the same room as the staff member for the entire news conference, though they were not within 6 feet of the staffer for more than 15 minutes, Tschann said. The staffer took a test on Tuesday and got the positive result Wednesday morning.
Walz has said that he's waiting to get vaccinated until his 50-64 year old age range becomes eligible. Several weeks ago, the governor said he was offered a shot through the Veterans Administration as a former National Guard member but declined.
Walz is among 22 governors who have not been vaccinated, according to a report from Business Insider this week.
Asked if she is advising Walz to get a shot immediately, Malcolm said she respected the governor's decision to wait.
"He's been very consistent that he's wanted to role model the value and the importance of being patient as we've asked Minnesotans to do," Malcolm told reporters Wednesday afternoon. "So I'm definitely comfortable with the decision the governor wants to make there."  
Malcolm received the single-dose Johnson & Johnson vaccine last Wednesday but is within the waiting period. Flanagan has received one of two Moderna doses through the White Earth Nation, of which she is a member.
Walz will get vaccinated "as soon as he's eligible," Tschann said Wednesday.
U.S. Sens. Amy Klobuchar and Tina Smith and U.S. Reps. Angie Craig and Betty McCollum also attended the Monday morning news conference.
Unlike Minnesota's key pandemic decision-makers, members of Congress have been fully vaccinated for weeks.
Aides for Klobuchar, Smith, Craig and McCollum said in emailed statements that they had been vaccinated and were not quarantining.
Walz will quarantine through March 25, which is 10 days after exposure in accordance with guidance from the Centers for Disease Control and Prevention, Tschann said.
The governor had been scheduled to give his State of the State speech from his former classroom in Mankato on Sunday but is postponing that.
When will eligibility expand?
When asked by FOX 9 about other governors' plans to expand vaccine eligibility to everyone on April 5, Malcolm said "I'm not sure we would be in position to open it completely" by then. But a smaller expansion is likely by that date, she said.
Health officials are "actively discussing" how many more people to include. Just because more people are eligible does not guarantee enough vaccine supply to meet demand on a given date.
About 1.8 million frontline essential workers and people with underlying medical conditions became eligible last week. More than 76 percent of Minnesota seniors have now gotten at least one dose.
Walz has pledged to expand eligibility to everyone before May 1, President Joe Biden's deadline for doing so.